Printing
To print from your device or from home, scan the QR code or simply visit: bit.ly/3EMmWMM.
Same day printing.
Upload your document.
Visit the library and release your print job.
B&W prints are 10¢ each. Color prints are 50¢ each
Aram Public Library works to make your day easier.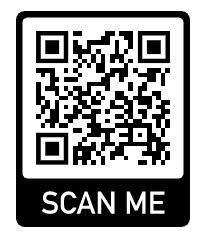 Copying
We have a self-serve copier that does black and white copies, 8½ X 11″ only, for 10¢ a copy. The copier takes coins and bills.
Faxing
The library provides local and long distance FAXs, but not international. The cost is $1.00 per page.
Scanning
The copy machine has a scanning function. Documents can be scanned and emailed or saved to a portable flash drive. There is no charge for this service.
How can I print?
Patrons can print from any of the public computer stations. Computer users will have to choose the ADULT PRINTER for black and white copies (10¢ a page) and the ADULT COLOR printer for color copies (50¢). Printing fees must be paid in advance.
Can I save my documents on the computer?
Documents cannot be saved on any of the computers. The computer's hard drive is cleared after each user logs off. Items can be saved to your removable storage devices like flash drives.
What does it cost to print?
Black and white copies cost 10¢ a page and color copies cost 50¢ a page. Printing fees must be paid in advance at the adult services desk.
Do you have WiFi available?
WiFi is available; however, it is an unsecured network and patrons must accept all responsibility when using it. Patrons will need to agree to listed conditions and click "Login" to access the network.
Do you have headphones and flash drives available?
Patrons who are viewing a website that has an audio track (sound) are expected to use headphones so they do not disturb other patrons. A limited number of headphones are available for checkout. Flash drives are not available.