Friends of Aram
October 1st marks the beginning of our new fiscal year! In celebration, a Friends' Annual Meeting and Program is planned for Thursday, October 14th from 1:30 to 3 p.m. We're happy to welcome back Mr. Frank Landi for an informative and interesting program on Delavan's Historic Downtown. Mr. Landi, a resident of Delavan, is an historian and independent researcher who specializes in local architecture and has published many books on the subject. Sponsored by the Friends, this free event is open to the public and will be held on the Library's main level with refreshments provided. Please join us and Mr. Landi for an enjoyable afternoon, and please remember to wear your mask!
If you haven't already done so, now is the time to renew your membership. We always welcome new members as well. A form is provided below. If you're a current member, please check the info we have for you, make changes if necessary, and fill in the remaining portions. You can drop off the completed form with the $5 membership fee at the Adult Services Desk or mail it to the Library to the Attention of the Friends.
Ornament Sale! Once again with the holiday season in mind and through the generosity of Tom and Bonnie McQueen of White Swan Pewter, the Friends will be selling specially made ornaments at the Library. Each finely-crafted pewter ornament comes individually gift-boxed. Ten different designs will be offered for sale, with each ornament priced at $10. To help shoppers with their selections, a Friends' Board member will be available on Saturdays from 10 a.m. to 12 noon beginning November 20th until sold out. These special gifts will also be available at the Main Desk during regular Library hours.
Thank you for your continued interest and support.  If you have suggestions, questions or comments, please contact us through the Adult Services Desk or email us at friends@aramlibrary.org.  You can also follow us on Facebook or check us out on the Library's website. We look forward to seeing you at the Library!
The Board of the Friends of Aram Library
History
The Friends of the Aram Public Library was established in 1987 to promote and assist the library. They remain today an active and vibrant group.
The Friends sponsor programs at Aram Library quarterly, conduct a giant book sale every summer, volunteer to help at a variety of library events, make monthly deliveries to residents of area nursing homes, purchase needed items for the Library that are beyond the library budget, and so much more!
Annual membership costs only $5.00. Fill out this form and drop off or mail to Aram Library.
Support Friends of the Aram Public Library –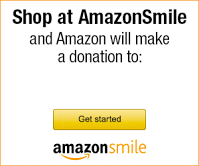 If you are an Amazon shopper, please consider accessing Amazon through the link at the right. AmazonSmile offers the same shopping experience as regular Amazon, but the Friends of Aram Public Library will receive a percentage of your expenditures. This will not cost you anything extra. Please share with all your friends and family.
Thanks for your support!
Governing Board Officers
Terri Yanke, President
Cheryl Noss, Vice President
Elvera Dahl, Secretary
Diane Kunzer, Treasurer
Marian McClellan, Director
Mary Lenz, Director
Shirley Bashaw, Director
Virginia Andersen, Director
Sandi Ballman, Director
Jane Waldkirch, Director