Friends of Aram
The Friends of the Aram Public Library was established in 1987 to promote and assist the library. They remain today an active and vibrant group.
The Friends sponsor programs at Aram Library quarterly, conduct a giant book sale every summer, volunteer to help at a variety of library events, make monthly deliveries to residents of area nursing homes, purchase needed items for the Library that are beyond the library budget, and so much more!
Annual membership costs only $5.00. Fill out this form and drop off or mail to Aram Library.
Support Friends of the Aram Public Library by shopping at AmazonSmile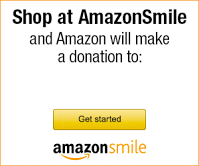 If you are an Amazon shopper, please consider accessing Amazon through the link at the right. AmazonSmile offers the same shopping experience as regular Amazon, but the Friends of Aram Public Library will receive a percentage of your expenditures. This will not cost you anything extra. Please share with all your friends and family.
Thanks for your support!
Governing Board Officers
Terri Yanke, President
Virginia Carlson, Vice President
Elvera Dahl, Secretary
Diane Kunzer, Treasurer
Marian McClellan, Director
Mary Lenz, Director
Shirley Bashaw, Director
Virginia Andersen, Director
Friends of Aram Library Monthly News & Views
Happy New Year and Welcome to 2019! We are looking forward to another special year at Aram Library. New and interesting programs are in the works, as well as the return of some all-time favorites! Please check the Aram Newsletter, Website or Face Book page for updated information each month.
We continue to accept donations of gently used books, movies and music for our perpetual sale shelves and carts. If you're moving or just cleaning out for the new year, please think of us!
As always, if you have questions, a special request, or need additional information about us or our programs, please contact us at: friends@aramlibrary.org or leave a message for us at the Adult Services Desk.
Best wishes to you and yours for a beautiful, bountiful and book-filled 2019!
Hope to see you at the Library!
Hope smiles from the threshold of the year to come, whispering, "It will be happier."
–Alfred Lord Tennyson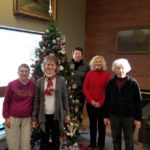 The Friends make our library festive!