Friends of Aram
The Friends of the Aram Public Library was established in 1987 to promote and assist the library. They remain today an active and vibrant group.
The Friends sponsor programs at Aram Library quarterly, conduct a giant book sale every summer, volunteer to help at a variety of library events, make monthly deliveries to residents of area nursing homes, purchase needed items for the Library that are beyond the library budget, and so much more!
Annual membership costs only $5.00. Fill out this form and drop off or mail to Aram Library.
Support Friends of the Aram Public Library by shopping at AmazonSmile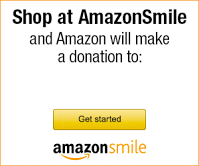 If you are an Amazon shopper, please consider accessing Amazon through the link at the right. AmazonSmile offers the same shopping experience as regular Amazon, but the Friends of Aram Public Library will receive a percentage of your expenditures. This will not cost you anything extra. Please share with all your friends and family.
Thanks for your support!
Governing Board Officers
Terri Yanke, President
Virginia Carlson, Vice President
Elvera Dahl, Secretary
Diane Kunzer, Treasurer
Marian McClellan, Director
Mary Lenz, Director
Shirley Bashaw, Director
Virginia Andersen, Director
Friends of Aram Library Monthly News & Views
This is the month we look forward to all year– time for our Annual Summer Book Sale! Join us under the tent on the front lawn on Saturday, August 11 from 8 a.m. to 3 p.m. Mark your calendar and bring the family! We're sure to have something to please everyone and at bargain prices!
If you're an early riser and physically fit (or know someone who is), please join our 'behind the scenes' box-carrying crew! We always need extra hands to help with set-up in the morning (starting at 6:30 a.m.) and take-down in the afternoon (starting at 3:15 p.m.). We offer treats each time and have forms available for students interested in earning community service hours. If you have questions or want to pass along the names of any willing and able volunteers, please leave a message for us at the Library or email us at friends@aramlibrary.org. We welcome and appreciate your participation!
Best wishes for an August filled with active fun in the sun, pleasant hours in the garden, interactive time with friends and family and, of course, enjoyable relaxing moments with a satisfying read! See you at the Library and at the Book Sale on August 11.
It was from my own early experience that I decided there was no use to which money could be applied so productive of good to boys and girls who have good within them, and the ability and ambition to develop it, as the founding of a public library.
– Andrew Carnegie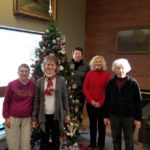 The Friends make our library festive!