Friends of Aram
The Friends of the Aram Public Library was established in 1987 to promote and assist the library. They remain today an active and vibrant group.
The Friends sponsor programs at Aram Library quarterly, conduct a giant book sale every summer, volunteer to help at a variety of library events, make monthly deliveries to residents of area nursing homes, purchase needed items for the Library that are beyond the library budget, and so much more!
Annual membership costs only $5.00. Fill out this form and drop off or mail to Aram Library.
Support Friends of the Aram Public Library by shopping at AmazonSmile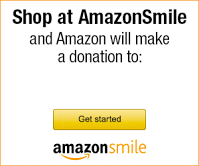 If you are an Amazon shopper, please consider accessing Amazon through the link at the right. AmazonSmile offers the same shopping experience as regular Amazon, but the Friends of Aram Public Library will receive a percentage of your expenditures. This will not cost you anything extra. Please share with all your friends and family.
Thanks for your support!
Governing Board Officers
Terri Yanke, President
Cheryl Noss, Vice President
Elvera Dahl, Secretary
Diane Kunzer, Treasurer
Marian McClellan, Director
Mary Lenz, Director
Shirley Bashaw, Director
Virginia Andersen, Director
Sandi Ballman, Director
Jane Waldkirch, Director
Monthly News & Views
 – March 2020
Spring officially begins this month, and welcome it, we will!  We'd also like to welcome you to the Youth Art Reception on Monday, March 2nd from 5 to 6 p.m.!  The Friends will be serving refreshments for you to enjoy as you view and appreciate the talents of our local budding artists.
And we invite you to our Spring Mini Book Sale which will take place during the Delavan Train Show on Saturday, March 21st from 9 a.m. to 3 p.m.  The sale will be held in the lower level meeting room and will be limited to Children and Teen books and DVD's, Train Show Buttons, music CD's and a sampling of small cookbooks, all for the bargain price of $.50 each or 3/$1.00.  Some train related books and magazines will also be available.
In the meantime, please check out our shelves and carts of gently used sale books located in the parking lot entrance and on the main floor.  Hardcover books and DVD's are $1.00, oversized softcover books are $.75, and regular paperbacks are $.50. Also available is a cart of special books for $2.00.  These items can also be purchased during the train show sale.
As always, if you have questions, a special request, or need additional information, please contact us at: friends@aramlibrary.org. 
To quote a toast from The Big Little Book of Irish Wit & Wisdom, "May you have warm words on a cold evening, A full moon on a dark night, And the road downhill all the way to your door!"  From your friends at the Friends, best wishes for a luck-filled and Happy St. Patrick's Day!
Hope to see you at the Library and at the Train Show Book Sale!
It was one of those March days when the sun shines not and the wind blows cold; when it is summer in the light, and winter in the shade. – Charles Dickens