Friends of Aram
The Friends of the Aram Public Library was established in 1987 to promote and assist the library. They remain today an active and vibrant group.
The Friends sponsor programs at Aram Library quarterly, conduct a giant book sale every summer, volunteer to help at a variety of library events, make monthly deliveries to residents of area nursing homes, purchase needed items for the Library that are beyond the library budget, and so much more!
Annual membership costs only $5.00. Fill out this form and drop off or mail to Aram Library.
Support Friends of the Aram Public Library by shopping at AmazonSmile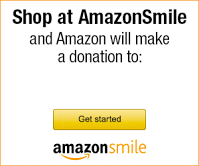 If you are an Amazon shopper, please consider accessing Amazon through the link at the right. AmazonSmile offers the same shopping experience as regular Amazon, but the Friends of Aram Public Library will receive a percentage of your expenditures. This will not cost you anything extra. Please share with all your friends and family.
Thanks for your support!
Governing Board Officers
Terri Yanke, President
Virginia Carlson, Vice President
Elvera Dahl, Secretary
Diane Kunzer, Treasurer
Marian McClellan, Director
Mary Lenz, Director
Shirley Bashaw, Director
Virginia Andersen, Director
Friends of Aram Library Monthly News & Views
Welcome to Fall! We're ready for cooler temps and the refreshing sights, sounds, smells and tastes of autumn!
This is a special month for the Friends! October 1st marks the beginning of our new fiscal year! In celebration, an Annual Meeting is planned for Thursday, October 25th from 1:30 to 3 p.m. A brief "Year in Review" by President Terri Yanke will precede a sure to be fun and festive program by the Stitchery Sisters, Nancy Snyder and Carrie Dodge who will be featuring Quilts for the Holidays! This is a free event with refreshments provided. Please join us for a special afternoon!
If you didn't sign up at the book sale, now is the time to renew your Friends' membership for the 2018-2019 year! We always welcome new members as well! It's a great way to show your support for the Library, and it's just $5 to join! Membership forms are available on the main level near the Friends' Boutique or can be accessed through the Library's web site in the Friends' section under the tab "Get Involved!"
As always, if you have questions, a special request, or need additional information about us, please contact us at: friends@aramlibrary.org.
Wishing you the enjoyment of crisp days, fireside nights, and dazzling autumn colors provided by 'Mother Nature!' Happy Columbus Day to you and, of course, have a fun, safe, and Happy Halloween!
Hope to see you at the Annual Meeting and at the Library!
"Autumn is a second spring when every leaf is a flower." –Albert Camus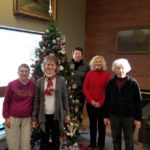 The Friends make our library festive!