Friends of Aram
News for September
Our big annual summer book sale is 'in the books!'  This was our best sale ever!   Thank you for supporting us and Aram Library with your purchases, donations and help during the day!  Look for us next year under the big white tent on the Library's front lawn on August 12, 2023!
As a reminder, we still have many wonderful books available on our in-house perpetual book sale shelves and carts.  Our DVD sale is still going on!  And we continue to accept donations for these areas, so please think of us when you're looking for a new home for your gently used books, movies, games and music items.
September is the month for membership renewals.  Our annual letter will be going out soon.  This year we are asking you to respond to us through our Post Office Box 252 in Delavan.  A return envelope will be included in the mailing for your convenience.
Next month, we look forward to author and historian Frank Landi's return on Thursday, October 20th from 1 to 3 p.m. for our Annual Meeting and Program on Delavan's Spring Grove Cemetery.  Mark your calendars and join us!
And just in time for the holiday season, Friends will be selling finely crafted White Swan Pewter ornaments again on Saturdays in mid-November and December!
If we can answer any questions or provide additional information, please contact us through Aram Library or email us at friends@aramlibrary.org.
Happy Labor Day and best wishes to all as school gets underway again!  See you at the Walworth County Fair and at the Library!
 "By all these lovely tokens September days are here; with summer's best of weather and autumn's best of cheer." – Helen Hunt Jackson
History
The Friends of the Aram Public Library was established in 1987 to promote and assist the library. They remain today an active and vibrant group.
The Friends sponsor programs at Aram Library quarterly, conduct a giant book sale every summer, volunteer to help at a variety of library events, make monthly deliveries to residents of area nursing homes, purchase needed items for the Library that are beyond the library budget, and so much more!
Annual membership costs only $5.00. Fill out this form and drop off or mail to Aram Library.
Support Friends of the Aram Public Library –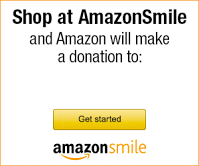 If you are an Amazon shopper, please consider accessing Amazon through the link at the right. AmazonSmile offers the same shopping experience as regular Amazon, but the Friends of Aram Public Library will receive a percentage of your expenditures. This will not cost you anything extra. Please share with all your friends and family.
Thanks for your support!
Governing Board Officers
Terri Yanke, President
Cheryl Noss, Vice President & Secretary
Elvera Dahl, Director
Diane Kunzer, Treasurer
Marian McClellan, Director
Mary Lenz, Director
Shirley Bashaw, Director
Virginia Andersen, Director
Sandi Ballman, Director
Jane Waldkirch, Director