Friends of Aram
We are excited to welcome the month of June as we close another school year and look forward to summer vacations! It's also a very special time at Aram Library as we kick off the highly popular Summer Reading Program filled with activities, prizes and fun for all ages! Join us throughout the summer and experience all the entertaining and interesting surprises that have been planned just for you. As in past years, the big tent (sponsored by the Friends) will appear soon on the lot just south of the Library parking area to accommodate many of these great programs.
Summer also means 'Book Sale' for the Friends. This year's date is Saturday, August 13th, 8 a.m. to 3 p.m. Another big white tent and many tables will be set up on the Library's front lawn. We always welcome volunteers to carry boxes of books from the Library for set-up and back into the Library for break down! The morning shift starts at 6:15; afternoon shift begins at 3:30! Please contact us at friends@aramlibrary.org if you can give us a hand!
Wishing you a summer filled with good friends, good times and good reads! Congratulations to our graduates and a Happy Father's Day to all!
Hope to see you at the Library!
Weeds are flowers too, once you get to know them. – A. A. Milne
History
The Friends of the Aram Public Library was established in 1987 to promote and assist the library. They remain today an active and vibrant group.
The Friends sponsor programs at Aram Library quarterly, conduct a giant book sale every summer, volunteer to help at a variety of library events, make monthly deliveries to residents of area nursing homes, purchase needed items for the Library that are beyond the library budget, and so much more!
Annual membership costs only $5.00. Fill out this form and drop off or mail to Aram Library.
Support Friends of the Aram Public Library –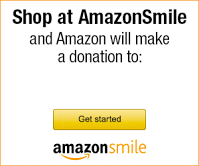 If you are an Amazon shopper, please consider accessing Amazon through the link at the right. AmazonSmile offers the same shopping experience as regular Amazon, but the Friends of Aram Public Library will receive a percentage of your expenditures. This will not cost you anything extra. Please share with all your friends and family.
Thanks for your support!
Governing Board Officers
Terri Yanke, President
Cheryl Noss, Vice President & Secretary
Elvera Dahl, Director
Diane Kunzer, Treasurer
Marian McClellan, Director
Mary Lenz, Director
Shirley Bashaw, Director
Virginia Andersen, Director
Sandi Ballman, Director
Jane Waldkirch, Director