Friends of Aram
The Friends of the Aram Public Library was established in 1987 to promote and assist the library. They remain today an active and vibrant group.
The Friends sponsor programs at Aram Library quarterly, conduct a giant book sale every summer, volunteer to help at a variety of library events, make monthly deliveries to residents of area nursing homes, purchase needed items for the Library that are beyond the library budget, and so much more!
Annual membership costs only $5.00. Fill out this form and drop off or mail to Aram Library.
Support Friends of the Aram Public Library by shopping at AmazonSmile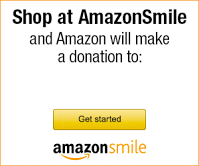 If you are an Amazon shopper, please consider accessing Amazon through the link at the right. AmazonSmile offers the same shopping experience as regular Amazon, but the Friends of Aram Public Library will receive a percentage of your expenditures. This will not cost you anything extra. Please share with all your friends and family.
Thanks for your support!
Governing Board Officers
Terri Yanke, President
Virginia Carlson, Vice President
Elvera Dahl, Secretary
Diane Kunzer, Treasurer
Marian McClellan, Director
Mary Lenz, Director
Shirley Bashaw, Director
Virginia Andersen, Director
Friends of Aram Library Monthly News
Welcome to Fall! We're ready for cooler temps and the refreshing sights, sounds, smells and tastes of autumn!
This is a special month for the Friends! October 1st marks the beginning of our new year! In celebration, an Annual Meeting is planned for Thursday, October 12th from 1:30 to 3 p.m. A brief "Year in Review" by President Terri Yanke will precede a sure to be interesting and informative program jointly featuring Carol Anderson who will talk about and display her lovely pieces of Norwegian Rosemaling, as well as other Norwegian artifacts and linens, and Bill Kaul, a Norwegian Woodworker and Whittler who will also share information and examples of his talents with us. This is a free event with refreshments provided. Please join us for a special afternoon filled with the lovely and creative arts of Norway!
If you didn't sign up at the book sale, now is the time to renew your Friends' membership for 2017-2018! We always welcome new members as well! It's a great way to show your support for the Library, and it's just $5 to join! Membership forms are available on the main level near the Friends' Boutique or can be accessed through the Library's web site in the Friends' section under the tab "Get Involved!"
As always, if you have questions, a special request, or need additional information about us, we'd love to hear from you! Please contact us at: friends@aramlibrary.org.
Wishing you crisp days, fireside nights, and dazzling autumn colors provided by 'Mother Nature!' Happy Columbus Day to you and, of course, have a fun and Happy Halloween!
Hope to see you at the Annual Meeting and at the Library!
October is the fallen leaf, but it is also a wider horizon more clearly seen. It is the distant hills once more in sight and the enduring constellations above them once again. Hal Borland
¡Bienvenidos al Otoño! ¡Estamos listos para el clima no tan caliente, bellos paisajes, sonidos, olores y sabores del Otoño!
¡Este es un mes especial para los amigos! ¡El 1º de Octubre marca el comienzo de nuestro nuevo año! Para celebrar, hemos planeado una Junta Anual el Jueves 12 de Octubre de 1:30 a 3 p.m. Un breve "Recuento del Año Pasado" por el Presidente Terri Yanke dará lugar a un programa interesante e informativo con Carol Anderos quien hablará y nos mostrará sus preciosas piezas Noruegas de Rosemailing, así como otros artefactos y linos, Y Bill Kaul, un carpintero Noruego quien compartirá con nosotros información y ejemplos de su talento. Este es un evento gratuito donde tendremos bocadillos. ¡Venga con nosotros para tener una tarde especial, llena de maravillosas y creativas artesanías de Noruega!
Si no se inscribió durante la venta de libros, ¡ahora es el tiempo para renovar su membresía para el 2017-2018! ¡También son bienvenidos los nuevos miembros! Es una gran forma de mostrar su aprecio por nuestra biblioteca y ¡solo cuesta $5! Las formas para la membresía están disponibles en el 1er nivel cerca de Friends' Boutique o a través de la página web en la sección de Friends, en la pestaña de "Get Involved!"
Como siempre, si tiene preguntas, alguna petición especial, o necesita mas información, ¡queremos escuchar de ustedes! Contáctenos a: friends@aramlibrary.org.
Les deseamos Buenos días, noches junto a la fogata, y deslumbrantes colores provistos por la madre naturaleza. Feliz día de la Raza a ustedes y por supuesto, ¡Feliz Halloween!
¡Esperamos verlos en la Junta Anual y en la Biblioteca!
Octubre es la hoja caída, pero también es un horizonte más amplio que se ve más claramente. Es las colinas lejanas cada vez más a la vista y las constelaciones que perduran sobre ellas una vez más.
Hal Borland