Friends of Aram
With the arrival of the new year and now the vaccine, the Friends are looking forward to new opportunities and to cautiously embracing and enjoying some of the many wonderful events and programs we've had to postpone in 2020.
Our Friends' in-house sale of gently used books and movies for adults, teens and children continues on special shelves and carts throughout the Library. Prices range from $1 for hardcovers, $.75 for trade paperbacks and soft covers, and $.50 or 3/$1 for children and teen books. Currently, we have a special sale on DVD's – buy three for $1 each and get the fourth one free. Special Boutique items (T-Shirts, Totes, Notes, all with the image of the Library) are available as well.
Also, we are again receiving donations for these areas, as well as for our big outside summer book sale on August 14th from 8 a.m. to 3 p.m.  Please feel free to drop them off in front of the sale shelves on the right as you enter off the parking lot.  If you need help unloading or getting your donations to the Library, please leave your name and phone number at the main desk.  A Friends' Board member will be in touch.
As always, if you have questions, a special request, or need additional information about us, you can reach us at: friends@aramlibrary.org or leave a message for us at the Library.
We are grateful to the Library Board, Director and all the Librarians for working tirelessly to keep the Library open and provide us with all the help, special care and reading/viewing material that has been so welcome through a difficult time. Our journey isn't complete yet, but there is hope on the horizon. Please continue to be safe and well in the meantime.
The Board of the Friends of Aram Library
History
The Friends of the Aram Public Library was established in 1987 to promote and assist the library. They remain today an active and vibrant group.
The Friends sponsor programs at Aram Library quarterly, conduct a giant book sale every summer, volunteer to help at a variety of library events, make monthly deliveries to residents of area nursing homes, purchase needed items for the Library that are beyond the library budget, and so much more!
Annual membership costs only $5.00. Fill out this form and drop off or mail to Aram Library.
Support Friends of the Aram Public Library –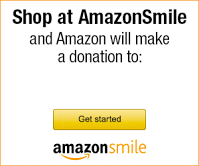 If you are an Amazon shopper, please consider accessing Amazon through the link at the right. AmazonSmile offers the same shopping experience as regular Amazon, but the Friends of Aram Public Library will receive a percentage of your expenditures. This will not cost you anything extra. Please share with all your friends and family.
Thanks for your support!
Governing Board Officers
Terri Yanke, President
Cheryl Noss, Vice President
Elvera Dahl, Secretary
Diane Kunzer, Treasurer
Marian McClellan, Director
Mary Lenz, Director
Shirley Bashaw, Director
Virginia Andersen, Director
Sandi Ballman, Director
Jane Waldkirch, Director