Friends of Aram
The Friends of the Aram Public Library was established in 1987 to promote and assist the library. They remain today an active and vibrant group.
The Friends sponsor programs at Aram Library quarterly, conduct a giant book sale every summer, volunteer to help at a variety of library events, make monthly deliveries to residents of area nursing homes, purchase needed items for the Library that are beyond the library budget, and so much more!
Annual membership costs only $5.00. Fill out this form and drop off or mail to Aram Library.
Support Friends of the Aram Public Library by shopping at AmazonSmile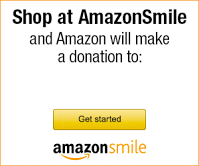 If you are an Amazon shopper, please consider accessing Amazon through the link at the right. AmazonSmile offers the same shopping experience as regular Amazon, but the Friends of Aram Public Library will receive a percentage of your expenditures. This will not cost you anything extra. Please share with all your friends and family.
Thanks for your support!
Governing Board Officers
Terri Yanke, President
Virginia Carlson, Vice President
Elvera Dahl, Secretary
Diane Kunzer, Treasurer
Marian McClellan, Director
Mary Lenz, Director
Shirley Bashaw, Director
Virginia Andersen, Director
Friends of Aram Library Monthly News & Views
The holiday season is upon us! And the Friends are getting into the spirit of celebration! Watch for the Library's festively decorated holiday tree to magically appear this month near the fireplace, as well as the big wreath in the window facing the parking lot!
Our nut sales continue! During December while supplies last, we'll be selling beautifully hand decorated, half-pound packages of premium praline pecans for $6 each. A Friends' board member will be at the Library on Saturdays from 10 a.m. to 12 noon to help you with your selections. These yummy treats make wonderful gifts for teachers, family and friends. They will also be available for purchase at the main desk during regular Library hours. Last year we sold out, so be sure shop early.
No season would be complete without a visit from Santa! Again this year, the Friends will be serving cookies during his visit on Saturday, December 15 from 10 to 11:30. A make-and-take holiday ornament event will be held on the Library's lower level. Bring the kids and join us!
Are you looking for an inexpensive gift for the readers on your holiday list? Don't forget to check out the Friends' shelves and carts with gently used books for sale. With hard covers just a $1, oversized trade paperbacks $.75, regular paperbacks $.50, children and teen books $.50 or 3/$1.00, and a selection of 'special' books for $2.00, you can't go wrong at these budget-friendly prices!
Also available at the main desk is "History of Aram Library" written by Ginny Hall, as well as her ever popular "Wandering" booklets. We also have Friends' T-shirts, Tote Bags and Note Cards for sale, all featuring the Library's image. All proceeds benefit the Library.
As always, if you have questions, suggestions or need additional information about us, please contact us at: friends@aramlibrary.org.
May 'comfort and joy' be your gifts this holiday season and your blessings throughout the coming year.
Hope to see you at the Library!
Christmas is a season for kindling the fire for hospitality in the hall and the genial flame of charity in the heart. – Washington Irving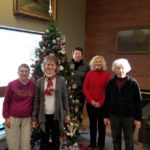 The Friends make our library festive!