Upcoming Events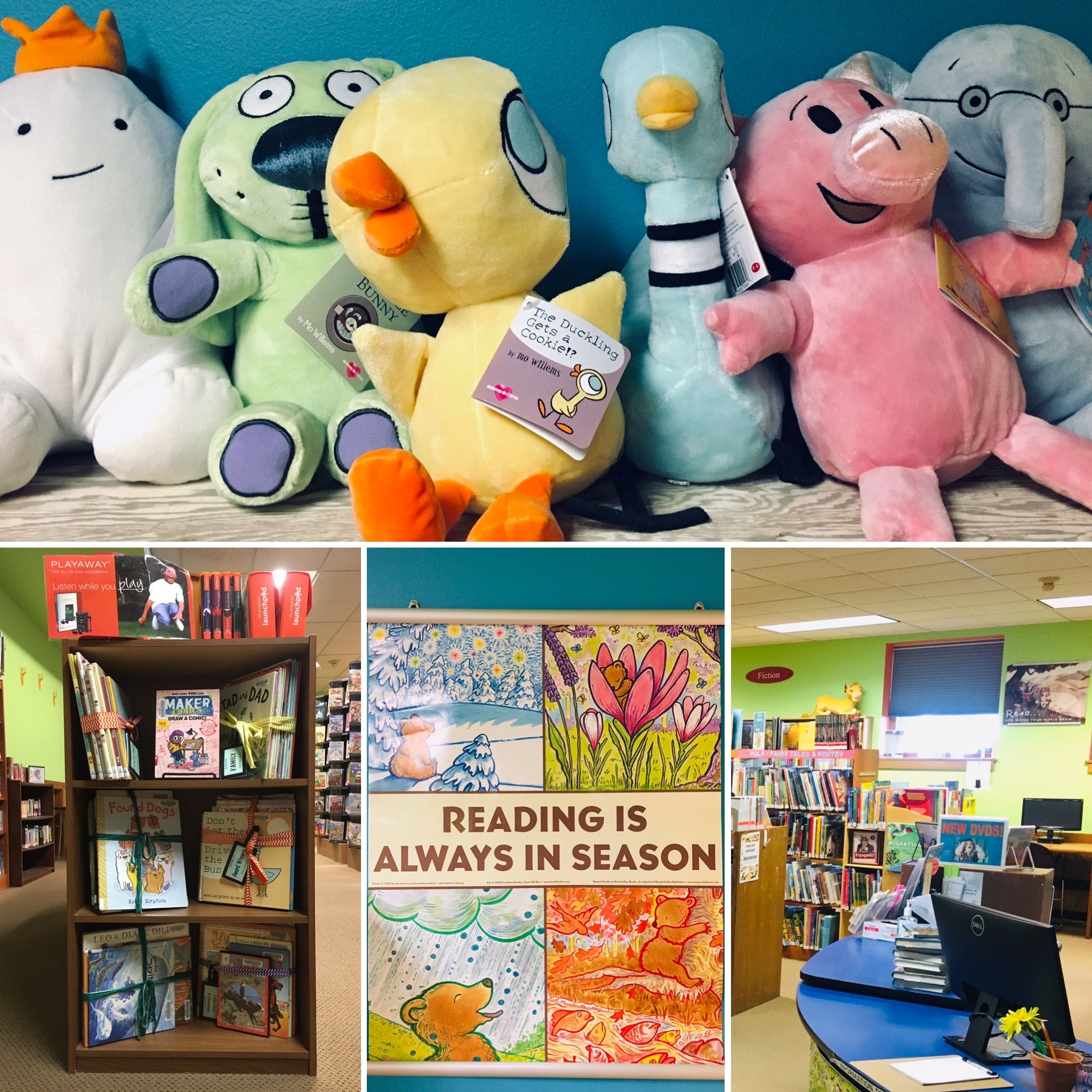 The library is currently open!
Building hours & holidays.
Connect with the library VIRTUALLY through our social media channels! Find us on Facebook, Youtube, and Instagram for online & in-person programming updates.
Keep track of your reading with Beanstack! Beanstack is a web-based reading software, which the library uses to do reading challenges throughout the year, including during the Summer Reading Program. Available through internet browser or by smartphone app (search Beanstack by Zoobean) – go on and take a look! aramlibrary.beanstack.org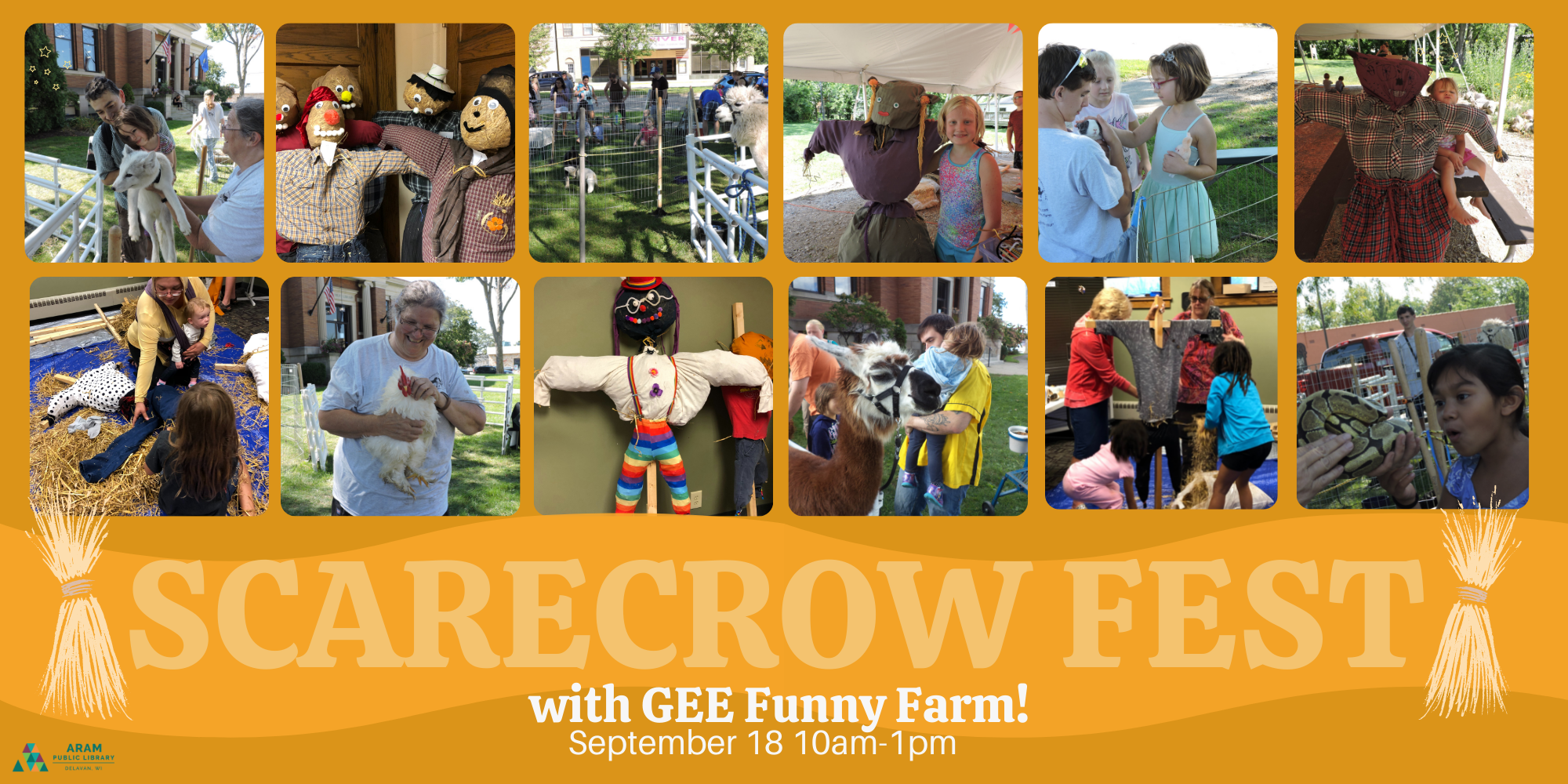 Baby to Three, Come Wiggle with Me! – Mondays at 10am
Read, wiggle, repeat! Baby to Three is back in action! Meeting in-person Mondays at 10am during the summer, weather and pandemic permitting, we'll meet outside with social distancing in place. Hooray! *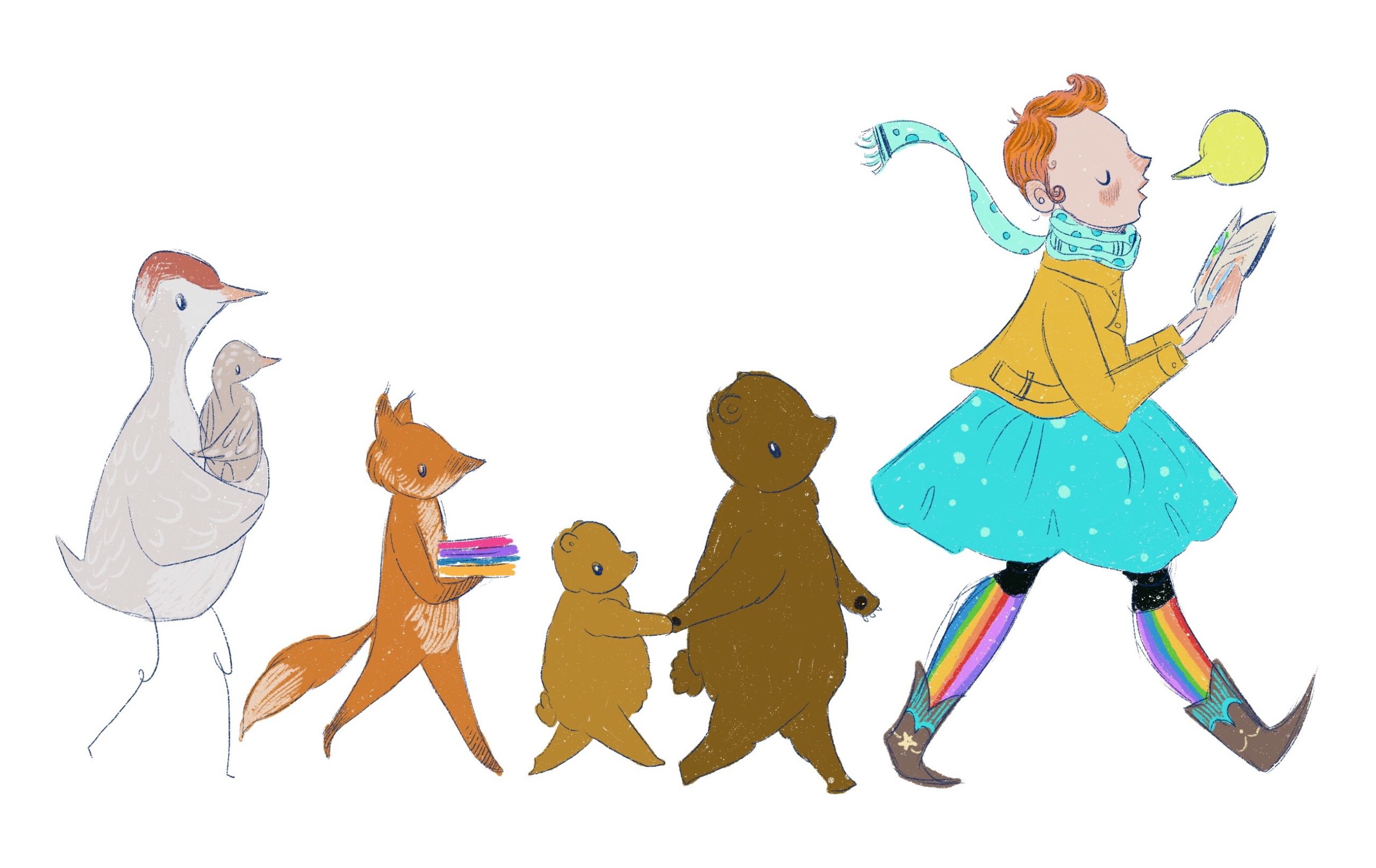 Storytime with Ms. Katherine – Wednesdays at 10am
Time for a story! Boogie down to the library to meet Ms. Katherine's  for a mid-morning story. (And, let's be honest, a song or two or three!) Outside every Wednesday at 10am! *
Read with Kaylee – 2nd Saturday of each month at 10am
Kaylee the Therapy Dog is here and ready to hear your stories! We'll be outside, so be sure to dress for the weather. Walk-ins are welcome, but if you'd prefer a specific 10-minute time slot, please register: http://bit.ly.aplregister *
Visit Ms. Katherine at the Farm Fresh Market – Thursdays at 3pm
Find Ms. Katherine for a story at Delavan's Farm Fresh Market, Thursdays downtown this summer! *
*As with all in-person programming at APL, participants are asked to follow local guidelines for slowing the spread of germs including staying 6′ feet apart from others outside your household and regularly washing hands. Masks are required inside the building.

Teddy Bear Tales – Wednesdays at 7:30pm on Facebook
Throw your jammies on, get cozy, and join Ms. Katherine for an end of the day storytime LIVE on Facebook!
Cuisine for Kiddos – 1st & 3rd Thursdays each month at 10am on Facebook
Ms. Denise is at it again! Every 1st & 3rd Thursday make a new special, fun, AND kid-friendly treat for the whole family to enjoy!
Storytime in Español – 1st Saturday/sábados at 10am
¡Únase al Sr. Gonzalo todos los sábados a las 10am para leer una historia divertida en español!
---
BookMyne available for your devices – Download today!
Need access to your library catalog on the go? Add SirsiDynix's BookMyne app, available both on Google Play and the Apple App Store. You can check availability of items by typing the title or scanning an item UPC, place holds, view best seller lists, manage your library account, and more.
BookMyne está disponible para sus dispositivos – ¡Descárguela hoy mismo!
¿Necesita acceso al catálogo de la biblioteca en donde quiera que esté? Descargue la aplicación SirsiDynix's BookMyne, disponible en Google Play y App Store. Vea la disponibilidad del material escribiendo el título o escaneando el código de barras, reserve material, vea los libros más vendidos, maneje su cuenta de la biblioteca y más.
Interpreters are available for all programs upon request. Please notify the library at least 3 days in advance of the program date.
Early Literacy
Five Early Literacy Practices
Talk!
Sing!
Read!
Write!
Play!
Did you know 90% percent of a child's brain development occurs in the first 5 years of life?  You are your child's first and most important teacher.
Aram Public Library has a multitude of Early Literacy offerings, including…
Baby to Three, Come Wiggle With Me! – Mondays at 10am
This story time/open play/dance party incorporates singing, stories, movement, and fun for babies, toddlers, and their grown-ups!
Story Time with Ms. Denise – Wednesdays at 10am
Stories, songs, and crafts for families!
Brain Boosters – Thursdays from 10:30am – 12pm
This hands-on, interactive environment where caregivers help children develop essential skills through open-ended play.
1000 Books Before Kindergarten
This program aims to ensure that all children entering kindergarten have acquired necessary learning and literacy skills through exposure to books and a language-rich early childhood experience.  This program is open-ended, so you can read at your own pace, year-round!  Stop by the Children's Desk for more information or to sign up!
Summer Reading
Aram Public Library has a Summer Reading Program for all ages!  Yes, including babies and toddlers!
Did you know…
Aram Public Library has an assortment of early literacy and creative play materials accessible for in-house use?
iPad (loaded with apps and games specifically chosen by Ms. Katherine, our Youth Services Librarian)
Interactive Chalkboard Wall (write, draw, create!)
Magnetic Board (magnet options include numbers, letters, and more!)
Puzzles (varying in size and difficulty)
Coloring Sheets and crayons
Puppets
Play Food
Blocks, Wire Mazes, and More!
…and a variety of early literacy and resource materials available for checkout?
Books (available in print, audio, and electronic formats)
Backpack Story Time Kits (each themed kit contains books, manipulatives, and handouts pertaining to the given topic)
Music CDs (available in multiple languages!)
Nonfiction DVDs (ranging in topics and interests for kids of all ages!)
Craft Kits (all the materials necessary to make a simple craft with your child)
Book Bundles (4-5 books all centered around a theme)
Games (board and card games suited for a variety of ages and interest levels)
Helpful Websites
American Library Association's Great Websites for Kids
Cooperative Children's Book Center
Resources
Homework Help!
BadgerLink provides an amazing variety of quality resources! (Please note, BadgerLink may require a library card to allow for full access.)
Click the links below to check out all the information available—for free!
Other Fun Resources!
NoveList K-8 provides users with book recommendations, read-alikes, discussion guides, reading lists, and more!
(NoveList K-8 is provided by BadgerLink. A library card may be needed to access this resource.)
ABCmouse.com for Libraries
The award-winning ABCmouse.com curriculum is designed to help young children (ages 2-6+) build a strong foundation for future academic success.  ABCmouse.com is 100% educational, with 3,500+ learning activities across all major subject areas: reading, math, science, social studies, art, and music.  Best of all, kids LOVE it.  And it's free to use at the library!  From Age of Learning, Inc. (Please note, ABCmouse.com is available for free through the library provided the patron is either using a library computer or the library's provided WiFi.)
Resources for Parents
Do you know someone who's pregnant or recently had a baby? Maybe that someone is you?
Sign up for a Welcome Baby Bag! It's simple, it's free…and it's filled with all sorts of goodies for the new baby and their family: books, bookmarks and stickers, early literacy information…and more!
Stop by or call (262) 728-3111, x117 for more information.
Ready to sign up? Stop by the Children's Desk! (Please note, each bag is customized for the family, so it'll be a few days after the form has been submitted for the bag to be ready for pick up.)
Growing Wisconsin Readers is a statewide initiative rooted in public libraries that aims to support Wisconsin caregivers of young children with information about early literacy so they can prepare children for learning at school and beyond.
For information about your child's development and what to do if you have a concern, www.actearly.wisc.edu is an excellent resource.  Not only will they provide information about resources available to you locally, but you can also learn more about your child's developmental milestones.  If you have any concerns about your child—developmentally or otherwise—be sure to talk with your child's doctor.
If you're pregnant or have a baby under one year, you can sign up to receive free text messages on prenatal care, infant care, and more through text4baby, a free service offered by the National Healthy Mothers, Healthy Babies Coalition and the FDA Office of Women's Health.  For more information and free resources, visit the following websites: