Upcoming Events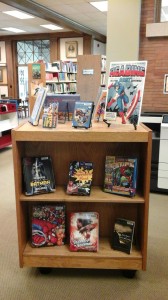 Make 2019 a Year of Learning!
Gale Courses deliver hundreds of engaging, instructor-led online courses focused on professional development, technology skills, and personal enrichment. Six-week courses are taught by college instructors and experts in the field, ensuring a high-quality, high-impact educational experience for all ages. This amazing resource is available to you at no cost with a library card! Click on the Gale Courses icon at the bottom of Aram Library's homepage or under the Research/Databases menu.
¡Los cursos de Gale ya están disponibles!
Gale Courses ofrece cientos de atractivos cursos en línea, dirigidos por instructores, enfocados en el desarrollo profesional, habilidades con la tecnología, y enriquecimiento profesional. Los cursos de 6 semanas son enseñados por profesores de universidad y expertos en el área, asegurando una experiencia educacional de alta calidad para todas las edades. ¡Este recurso está disponible sin costo para usted con su Tarjeta de la Biblioteca! En el sitio web de la Biblioteca haga clic en el icono de Gale Courses o en el menú de Research/Databases.
WiFi Hotspots now available for checkout!
Aram Public Library is now offering "mobile hotspots" — Internet access through a device the size of a cellphone which can be checked out and used at home or anywhere that receives a cell phone signal. Hotspots may be checked out for a period of seven days, with a late fee of $5 per day. Each hotspot unit is checked out in a container with a micro-USB cord, AC charger with USB port, instruction sheet and a copy of the library's policy. Borrowers must have a library card in good standing and be at least 18 years old. Contact the library to inquire about availability.
¡Dispositivos de WiFi móvil disponibles en la biblioteca!
La biblioteca Pública Aram está ofreciendo dispositivos de WiFi móvil (mobile hotspots) – Acceso a internet desde un dispositivo del tamaño de un celular que puede usar en casa o cualquier lugar que reciba señal de celular. Los podrá pedir prestados por un periodo de 7 días, con recargo de $5 por cada día de retraso. Cada dispositivo vendrá en un contenedor con un cable micro-USB, cargador AC con puerto USB, manual de instrucciones y una copia de las políticas de la Biblioteca. Debe tener una credencial de la biblioteca vigente y tener al menos 18 años. Contacte a la Biblioteca para ver la disponibilidad.
Tech Tutorials – Wednesdays at 9:30 & 10:15 a.m. – Registration Required
Baffled by technology? Sign up for a 45-minute one-on-one session with a librarian for assistance with anything computer related, such as downloading e-books and audiobooks, filling out online applications, signing up or managing email, or learning to use Microsoft Office software. Bring in your own device or use one of our computers.
Tutorías de Tecnología – Miércoles de 9:30 & 10:15 a.m. – Requiere Inscribirse
¿Frustrado con la tecnología? Inscríbase para una sesión de 45 minutos uno a uno con uno de nuestros bibliotecarios para que le ayude con cualquier cosa relacionada con la computadora tales como descargas, libros electrónicos, llenar aplicaciones, correo electrónico o aprender a usar Microsoft Office. Traiga su propio dispositivo o utilice una de nuestras computadoras.
Knit and Crochet Club – December 2, 9, 18 at 6 p.m.
For all ages and experience levels, Knit and Crochet Club meets at 6 p.m. on the scheduled dates.  Bring your own project to work on.  Beginners welcome.
Club de Tejer y Crochet – diciembre 6, 9, 18 at 6 p.m.
Para todas las edades y niveles. El club de Tejer y Crochet se reúne a las 6 p.m. en las fechas acordadas. Traiga su propio proyecto. Los principiantes son bienvenidos.
English Conversation Group – Wednesday evenings at 6 p.m.
We welcome all levels of English learners to an informal conversation group meeting once per week. Please contact Lilly Barrett at 262-957-0142 or wclc@walworthcoliteracy.com for more information, or simply drop in to converse with fellow English learners. This is a collaborative effort between the Walworth County Literacy Council and Aram Public Library.
Grupo de Conversación en Inglés – miércoles por la tarde a las 6:00 p.m.
Son bienvenidos los estudiantes de inglés de todos los niveles a un grupo de conversación informal que se reúne una vez a la semana. Favor de ponerse en contacto con Lilly Barrett al 262-957-0142 o wclc@walworthcoliteracy.com para más información,  o simplemente pase a platicar con otros aprendices del idioma inglés. Este es un esfuerzo en conjunto con el Consejo de Alfabetización del Condado Walworth y la Biblioteca Pública Aram.
The library will be closing early at 5 p.m. on Wednesday, November 27. We will be closed all day Thursday, November 28 & Friday, November 29. If you have returns please feel free to put them in the parking lot drop-box! Happy Thanksgiving!
Food for Fines ALL November!
Do your part to replenish the food pantry supplies at the same time you reduce your fines for overdue library materials.  For each nonperishable food item you bring in, we'll take $1 off your overdue fines.  All donations must be in good condition and not past their expiration or sell-by dates. (Ramen noodles and gelatin mixes will not be accepted.) Food for Fines does not apply to charges for damaged or lost materials.
Aram Book Club
Aram Book Club is changing their meeting date to the first Thursday of each month. There will be no meeting in November. Instead, contact the library to reserve your copy of the December title The Woman Who Smashed Codes by Jason Fagone for the Thursday, December 5 meeting at 6:30 p.m. 
The library will be closed December 24 – 25 and December 31 – January 1. If you have returns please feel free to put them in the parking lot drop box. Happy holidays!
Holiday Presents – It's a Wrap!
Wrap your holiday gifts away from prying eyes and curious kiddos.  Paper, tape, ribbon, and gift tags will be available for public use from 1 to 3 p.m. on Sundays and Fridays between December 1 and 22.  (Donated supplies are welcome).
Aram Book Club
Thursday, December 5 at 6:30 p.m.
We will be discussing The Woman Who Smashed Codes by Jason Fagone. Pick up a copy of the book at the library.
Holiday Concert
Thursday, December 5 at 7 p.m.
at the Riviera Ballroom in Lake Geneva
This holiday season the Aram Public Library in Delavan, the Barrett Memorial Library in Williams Bay, the Lake Geneva Library, and the Matheson Memorial Library in Elkhorn are bringing three  jazz combos to The Riviera for a special one-night concert featuring jazz and holiday music performed by talented local acts!  Best of all, this concert is completely free & open to everyone! Parking is free in Lake Geneva during the winter months.
Lakeshores Memory Café
Friday, December 6 at Burlington Public Library at 11 a.m.
Memory Cafés offer people with dementia and their care partners a safe, welcoming environment in which to enjoy regular social interaction with others in similar circumstances.   First time attendees, please call the Alzheimer's Association at 800-272-3900. (Dates and times changing for 2020!)
Adult Craft
Monday, December 9 and Thursday December 12
at 5:30 p.m. or 6:30 p.m.
Registration is required
Join us for one of our adult craft nights. All materials are provided for our seasonal craft. Due to high demand and limited space, we regret that we cannot accommodate children at these sessions.
Guilty Pleasures Book Club
Monday, December 30 at 6 p.m.
This club meets monthly to discuss selections in the romance and mystery genres
Delavan Book & Wine Society does not meet in December. Check our January calendar for date and location of the next meeting.
RBDigital for E-Magazines
Enjoy unlimited digital access to all your favorite magazines – at no cost! Click on the RBDigital button on our website (under the Borrow menu/ Digital Magazines) to sign up, and download the app to find and read a constantly updated selection of titles.
RBDigital para E-Magazines
Disfrute de acceso ilimitado a todas sus revistas favoritas – ¡sin costo! Haga clic en en el botón de RBDigital en nuestra página web (debajo del menú borrow/Digital Magazines) para poder registrarse, y descargue la aplicación para leer nuestra selección de revistas que constantemente estamos actualizando.
BookMyne available for your devices – Download today!
Need access to your library catalog on the go? Add SirsiDynix's BookMyne app, available both on Google Play and the Apple App Store. You can check availability of items by typing the title or scanning an item UPC, place holds, view best seller lists, manage your library account, and more.
BookMyne está disponible para sus dispositivos – ¡Descárguela hoy mismo!
¿Necesita acceso al catálogo de la biblioteca en donde quiera que esté? Descargue la aplicación SirsiDynix's BookMyne, disponible en Google Play y App Store. Vea la disponibilidad del material escribiendo el título o escaneando el código de barras, reserve material, vea los libros más vendidos, maneje su cuenta de la biblioteca y más.
Interpreters are available for all programs upon request. Please notify the library at least 3 days in advance of the program date.
Especially for Seniors
At the Library
Homebound Library Services
If you are a resident of a retirement living facility and unable to come to the Library due to disability, illness, or injury, our Friends of the Library group may be able to deliver materials to you on a monthly basis. Please contact the library at 262-728-3111 for more information.
Computer/Smartphone Assistance
Make an appointment with a librarian for a 45-minute one-on-one session with a librarian for assistance with anything computer related, such as downloading e-books and audiobooks, filling out online applications, signing up or managing email, or learning to use Microsoft Office software. Bring in your own device or we will use one of our computers.
Take Your Grandkids to…
Looking to show your darling grandkids a great time (or just need to get them out of mom's hair for a bit!)? Check our event calendar for lots of fun programs hosted by our children's librarian. You can also call the library to get information on our many programs at 262-728-3111.
Around Town
Walworth County Aging and Disability Resource Center.
Access to community resources and services for older adults and adults with disabilities. (262) 741-3400 or 800-365-1587 (Toll Free)
Telecare
Telecare is a community service program designed specifically for older adults who live alone regardless of their mobility, health status or degree of isolation. Participants are called daily by dedicated volunteers to ensure that all is well. Please call the Volunteer Connection, Inc at 262-472-9632 for more information about this valuable service.
Senior Lunch Centers
Six senior dining centers provide nutritious lunch time meals to persons who are aged 60 and older. (Delavan location: Woodview Park Apartments, 353 Tyrrell Court (M,W,F), 262-728-5618). In addition to providing a good meal, senior dining centers offer an opportunity for older adults to socialize with other members of their community. Affordable, home-style meals are served. Reservations are required at least one business day in advance to hold a meal at a senior dining center.
Senior Resource Program
Access the Senior Resource Program for help with:
Advance Care Planning
Medication assistance programs
Alternative living
Senior care
In-home assessments
Helping distance caregivers
Locating services
Any questions related to seniors and services available.
There is no charge to access the Senior Resource Coordinator. This is a service provided to your community, funded by Aurora Health Care. (262) 249-5037
SeniorCare
Wisconsin's Prescription Drug Assistance Program for those residents who are 65 years of age or older. This can help residents save money on their prescription drugs and related health care costs. Call 1-800-657-2038 for information, or find additional help with medical bills.
Transportation Services
Walworth County Transportation Program 262-741-3168
Tri-County American Red Cross 877-605-0760
VIP Services Inc Elkhorn 262-723-4043
Medix Specialized Transportation 866-787-1077
Para Tech Ambulance 800-421-2234
Links & Things
Helpful websites and phone numbers to know: