Upcoming Events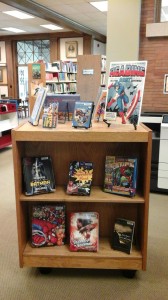 Make 2019 a Year of Learning!
Gale Courses deliver hundreds of engaging, instructor-led online courses focused on professional development, technology skills, and personal enrichment. Six-week courses are taught by college instructors and experts in the field, ensuring a high-quality, high-impact educational experience for all ages. This amazing resource is available to you at no cost with a library card! Click on the Gale Courses icon at the bottom of Aram Library's homepage or under the Research/Databases menu.
¡Los cursos de Gale ya están disponibles!
Gale Courses ofrece cientos de atractivos cursos en línea, dirigidos por instructores, enfocados en el desarrollo profesional, habilidades con la tecnología, y enriquecimiento profesional. Los cursos de 6 semanas son enseñados por profesores de universidad y expertos en el área, asegurando una experiencia educacional de alta calidad para todas las edades. ¡Este recurso está disponible sin costo para usted con su Tarjeta de la Biblioteca! En el sitio web de la Biblioteca haga clic en el icono de Gale Courses o en el menú de Research/Databases.
WiFi Hotspots now available for checkout!
Aram Public Library is now offering "mobile hotspots" — Internet access through a device the size of a cellphone which can be checked out and used at home or anywhere that receives a cell phone signal. Hotspots may be checked out for a period of seven days, with a late fee of $5 per day. Each hotspot unit is checked out in a container with a micro-USB cord, AC charger with USB port, instruction sheet and a copy of the library's policy. Borrowers must have a library card in good standing and be at least 18 years old. Contact the library to inquire about availability.
¡Dispositivos de WiFi móvil disponibles en la biblioteca!
La biblioteca Pública Aram está ofreciendo dispositivos de WiFi móvil (mobile hotspots) – Acceso a internet desde un dispositivo del tamaño de un celular que puede usar en casa o cualquier lugar que reciba señal de celular. Los podrá pedir prestados por un periodo de 7 días, con recargo de $5 por cada día de retraso. Cada dispositivo vendrá en un contenedor con un cable micro-USB, cargador AC con puerto USB, manual de instrucciones y una copia de las políticas de la Biblioteca. Debe tener una credencial de la biblioteca vigente y tener al menos 18 años. Contacte a la Biblioteca para ver la disponibilidad.
Tech Tutorials – Wednesdays at 9:30 & 10:15 a.m. – Registration Required
Baffled by technology? Sign up for a 45-minute one-on-one session with a librarian for assistance with anything computer related, such as downloading e-books and audiobooks, filling out online applications, signing up or managing email, or learning to use Microsoft Office software. Bring in your own device or use one of our computers.
Tutorías de Tecnología – Miércoles de 9:30 & 10:15 a.m. – Requiere Inscribirse
¿Frustrado con la tecnología? Inscríbase para una sesión de 45 minutos uno a uno con uno de nuestros bibliotecarios para que le ayude con cualquier cosa relacionada con la computadora tales como descargas, libros electrónicos, llenar aplicaciones, correo electrónico o aprender a usar Microsoft Office. Traiga su propio dispositivo o utilice una de nuestras computadoras.
Knit and Crochet Club – February 20, 27, March 4, 11, 20, 27 at 6 p.m.
For all ages and experience levels, Knit and Crochet Club meets at 6 p.m. on the scheduled dates.  Bring your own project to work on.  Beginners welcome.
Club de Tejer y Crochet – febrero 20, 27, marzo 4, 11, 20, 27 at 6 p.m.
Para todas las edades y niveles. El club de Tejer y Crochet se reúne a las 6 p.m. en las fechas acordadas. Traiga su propio proyecto. Los principiantes son bienvenidos.
ResCare Workforce Services – Tuesdays from 9 am to 12 p.m.
FoodShare Employment and Training Talent Development Specialist on-site weekly at Aram Public Library. Walk-in or by appointment. The FoodShare Employment and Training (FSET) program is a free program that helps FoodShare members build their job skills and find jobs. To schedule an appointment with Nick at Aram Public Library please call 262-741-5180
Servicios ResCare Workforce – los martes de 9 a.m. a 12 p.m.
El programa de Empleos y Entrenamiento de FoodShare (FSET) es un programa gratuito que ayuda a los miembros de FoodShare a mejorar sus habilidades y encontrar trabajo. Reúnase con el Desarrollador Especialista de Talento de FSET en la Biblioteca Pública Aram, quien podrá evaluar sus fortalezas, necesidades y preferencias para ayudarle a conseguir trabajo. Puede llegar o llame a Nick al 262-741-5180 para agenda una cita.
English Conversation Group – Wednesday evenings at 6 p.m.
We welcome all levels of English learners to an informal conversation group meeting once per week. Please contact Lilly Barrett at 262-957-0142 or wclc@walworthcoliteracy.com for more information, or simply drop in to converse with fellow English learners. This is a collaborative effort between the Walworth County Literacy Council and Aram Public Library.
Grupo de Conversación en Inglés – miércoles por la tarde a las 6:00 p.m.
Son bienvenidos los estudiantes de inglés de todos los niveles a un grupo de conversación informal que se reúne una vez a la semana. Favor de ponerse en contacto con Lilly Barrett al 262-957-0142 o wclc@walworthcoliteracy.com para más información,  o simplemente pase a platicar con otros aprendices del idioma inglés. Este es un esfuerzo en conjunto con el Consejo de Alfabetización del Condado Walworth y la Biblioteca Pública Aram.
Show the Animals some Love in February!
Help the homeless animals at Lakeland Animal Shelter and reduce your overdue fines at the same time!  During the month of February, we'll be collecting pet food (both canned and dry) and cat litter for the animal shelter.  In exchange for your donation, we'll reduce your overdue fines.  This program does not apply to fees for lost or damaged items.
¡Muestre Amor a los Animales en Febrero!
¡Ayude a los animales sin hogar del Albergue para Animales Lakeland y reduzca sus multas al mismo tiempo! Durante el mes de febrero estaremos recolectando alimento para mascotas (tanto seco como enlatado) y arena para gatos  para el albergue de animales. A cambio de su donación, nosotros reduciremos sus multas. Este programa no aplica para cargos por objetos extraviados o dañados.
Stranger Things Escape Room
Friday, February 22 from 6 to 8 p.m. AND
Saturday, February 23 from 1 to 5 p.m.
Registration required
Grab your Christmas lights, walkie-talkies, and Eggos…we're heading to Hawkins, IN!  Do you have what it takes to conquer our Stranger Things Escape Room or will the challenge have you Upside Down?  Aram Public Library and Barrett Memorial Library in Williams Bay are cranking this game up to Eleven, so be prepared for some eerie 80's fun.  Registration is required, so call your friends, get together a group—or be paired with other folks—and see where the clues take you.  This program is best suited for ages 13 and up.
Escape Room de Stranger Things –
viernes 22 de febrero de 6 a 8:00 p.m.
Y sábado 23 de febrero de 1 a 5:00 p.m.
Es Necesario Inscribirse
Agarre sus luces de navidad, walkie-talkies y Eggos… ¡vamos a Hawkins, IN! ¿Tiene lo necesario para conquistar el Escape Room de Stranger Things o el reto lo pondrá de cabeza? La Biblioteca Pública Aram y la Biblioteca Barret Memorial en Williams Bay están elevando el nivel hasta Once, así que prepárese para divertirse misteriosamente al estilo de los 80s. Es necesario inscribirse, así que llama a tus amigos, organiza el grupo—o trabaja con otras personas—y ve a donde te llevan las pistas. Este programa está dirigido a edades de 13 años en adelante.
Guilty Pleasures Book Club – Monday, January 25 at 6 p.m.
This club meets monthly to discuss selections in the romance and mystery genres. In February we will be discussing Origin by Dan Brown.
Club de Libros Placeres Culpables – Lunes 25 de enero a las 6 p.m.
Este club se reúne cada mes para platicar la selección en los géneros de romance y misterio
Aram Art Adventures for Adults
Tuesday, February 26 from 5:30-7:30 p.m.
Drop in to experience a self-paced art activity. Warm up with pocket hand heaters.
Aventuras de Arte Aram para Adultos
Martes 26 de febrero de 5:30-7:30 p.m.
Pase a experimentar una actividad de arte a su propio ritmo. Caliéntese con los calentadores de manos de bolsillo.
Lakeshores Memory Café – Friday, March 1 at 11 a.m.
at Burlington Public Library
Memory Cafés offer people with dementia and their care partners a safe welcoming environment in which to enjoy regular social interaction with others in similar circumstances.   Take advantage of this partnership between the Burlington Public Library, Lake Geneva Public Library, Aram Public Library (Delavan) and the Alzheimer's Association.  This memory café will rotate between the three libraries on the first Friday of each month at 11:00am. First time attendees, please call the Alzheimer's Association at 800-272-3900.
Style for Nothing, Swag for Free
Friday, March 1 from 3 to 4:30 p.m. &
Saturday, March 2 from 11 a.m. to 12:30 p.m.
Looking for something to wear to prom and other formal events, but cash is tight?  Come to the library for Style for Nothing, Swag for Free!  We'll have an assortment of formal wear available to take home for—yep, you guessed it—FREE.  What could be better?!
Frank Landi: Spring Grove Cemetery – Wednesday, March 6 at 2 p.m.
Frank shares the architecture and history of the tombstones in a local cemetery. Copies of his new book on Spring Grove Cemetery will be available for purchase and signing.
2019 Delavan Train Show
Saturday, March 9, 9 a.m. to 4 p.m. &
Sunday, March 10, 10 a.m. to 4 p.m.
Stop by Aram Library during the exciting Train Show to view the layouts on display and, while you're here, choo-choo-choose to take a gander at the Friends of Aram Public Library book sale!
Adult Craft – Monday, March 11 and Thursday, March 14.
Two sessions each night: 5:30-6:30 or 6:30-7:30.
Please register
Join us for one of our adult craft nights. All materials are provided for our St. Patrick's Day craft, but space is limited so please register.
Civil War Fashion Show – Tuesday, March 12 at 6:30 p.m.
Bev Wassam is a local seamstress specializing in period clothing. View a variety of Civil War era fashions and learn about their history.
Paint like Frida – Please register
Teens: Wednesday, March 6 at 5:30
Adults: Wednesday, March 13 at 5:30 p.m.
Learn how to paint self-portraits in the style of Frida Kahlo—as well as learning about the artist herself—with Rachel Pfarr!  All materials will be provided.  Space is limited, so registration is required.  Stop by the Adult Desk or call (262) 728-3111, x100 to reserve your spot!
Adult Writing Group – Tuesday, March 19 at 5:30 p.m.
If you're an aspiring writer seeking an incentive to get started, meet with others on the third Tuesday of each month for an opportunity to hone your skills. Bring examples of your work to share with the group!
Diversity Diner: Noodles – Please register
Wednesday, March 20 at 6 p.m.
Chef Lindsay Liss explores food expressions of select ethnic groups. Watch as she demonstrates recipe preparation, learn a little about the featured culture, revel in some new tastes, and go home with new skills and recipes.
Aram Book Club – Thursday, March 21 at 6:30 p.m.
We will be discussing Tea Girl of Hummingbird Lane by Lisa See. Pick up a copy of the book at the library.
Guilty Pleasures Book Club – Monday, March 25 at 6 p.m.
This club meets monthly to discuss selections in the romance and mystery genres. This month we are reading Palace of Spies by Sarah Zettel.
Aram Art Adventures for Adults – Tuesday, March 26
from 5:30-7:30 p.m.
Drop in to experience a self-paced art activity. Experiment with henna décor on your skin.
Trained representatives from AARP Tax Aide will be offering free tax preparation services February through March at local libraries. Please call for more information or an appointment.
Representantes de AARP Tax Aide estarán ofreciendo servicios gratuitos de preparación de impuestos durante febrero y marzo en las bibliotecas locales. Favor de llamar si necesita más información o una cita.
RBDigital for E-Magazines
Enjoy unlimited digital access to all your favorite magazines – at no cost! Click on the RBDigital button on our website (under the Borrow menu/ Digital Magazines) to sign up, and download the app to find and read a constantly updated selection of titles.
RBDigital para E-Magazines
Disfrute de acceso ilimitado a todas sus revistas favoritas – ¡sin costo! Haga clic en en el botón de RBDigital en nuestra página web (debajo del menú borrow/Digital Magazines) para poder registrarse, y descargue la aplicación para leer nuestra selección de revistas que constantemente estamos actualizando.
BookMyne available for your devices – Download today!
Need access to your library catalog on the go? Add SirsiDynix's BookMyne app, available both on Google Play and the Apple App Store. You can check availability of items by typing the title or scanning an item UPC, place holds, view best seller lists, manage your library account, and more.
BookMyne está disponible para sus dispositivos – ¡Descárguela hoy mismo!
¿Necesita acceso al catálogo de la biblioteca en donde quiera que esté? Descargue la aplicación SirsiDynix's BookMyne, disponible en Google Play y App Store. Vea la disponibilidad del material escribiendo el título o escaneando el código de barras, reserve material, vea los libros más vendidos, maneje su cuenta de la biblioteca y más.
Interpreters are available for all programs upon request. Please notify the library at least 3 days in advance of the program date.
Especially for Seniors
At the Library
Homebound Library Services
If you are a resident of a retirement living facility and unable to come to the Library due to disability, illness, or injury, our Friends of the Library group may be able to deliver materials to you on a monthly basis. Please contact the library at 262-728-3111 for more information.
Computer/Smartphone Assistance
Make an appointment with a librarian for a 45-minute one-on-one session with a librarian for assistance with anything computer related, such as downloading e-books and audiobooks, filling out online applications, signing up or managing email, or learning to use Microsoft Office software. Bring in your own device or we will use one of our computers.
Take Your Grandkids to…
Looking to show your darling grandkids a great time (or just need to get them out of mom's hair for a bit!)? Check our event calendar for lots of fun programs hosted by our children's librarian. You can also call the library to get information on our many programs at 262-728-3111.
Around Town
Walworth County Aging and Disability Resource Center.
Access to community resources and services for older adults and adults with disabilities. (262) 741-3400 or 800-365-1587 (Toll Free)
Telecare
Telecare is a community service program designed specifically for older adults who live alone regardless of their mobility, health status or degree of isolation. Participants are called daily by dedicated volunteers to ensure that all is well. Please call the Volunteer Connection, Inc at 262-472-9632 for more information about this valuable service.
Senior Lunch Centers
Six senior dining centers provide nutritious lunch time meals to persons who are aged 60 and older. (Delavan location: Woodview Park Apartments, 353 Tyrrell Court (M,W,F), 262-728-5618). In addition to providing a good meal, senior dining centers offer an opportunity for older adults to socialize with other members of their community. Affordable, home-style meals are served. Reservations are required at least one business day in advance to hold a meal at a senior dining center.
Senior Resource Program
Access the Senior Resource Program for help with:
Advance Care Planning
Medication assistance programs
Alternative living
Senior care
In-home assessments
Helping distance caregivers
Locating services
Any questions related to seniors and services available.
There is no charge to access the Senior Resource Coordinator. This is a service provided to your community, funded by Aurora Health Care. (262) 249-5037
SeniorCare
Wisconsin's Prescription Drug Assistance Program for those residents who are 65 years of age or older. This can help residents save money on their prescription drugs and related health care costs. Call 1-800-657-2038 for information, or find additional help with medical bills.
Transportation Services
Walworth County Transportation Program 262-741-3168
Tri-County American Red Cross 877-605-0760
VIP Services Inc Elkhorn 262-723-4043
Medix Specialized Transportation 866-787-1077
Para Tech Ambulance 800-421-2234
Links & Things
Helpful websites and phone numbers to know: