Upcoming Events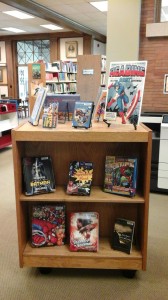 Make 2017 a Year of Learning!
Gale Courses deliver hundreds of engaging, instructor-led online courses focused on professional development, technology skills, and personal enrichment. Six-week courses are taught by college instructors and experts in the field, ensuring a high-quality, high-impact educational experience for all ages. This amazing resource is available to you at no cost with a library card!  Click on the Gale Courses icon at the bottom of Aram Library's homepage or under the Research/Databases menu.
Wi-Fi Hotspots now available for checkout!
Aram Public Library is now offering "mobile hotspots" — Internet access through a device the size of a cellphone which can be checked out and used at home or anywhere that receives a cell phone signal. Hotspots may be checked out for a period of seven days, with a late fee of $5 per day. Each hotspot unit is checked out in a container with a micro-USB cord, AC charger with USB port, instruction sheet and a copy of the library's policy. Borrowers must have a library card in good standing and provide proof that they are at least 18 years old. Contact the library to inquire about availability.
Tech Tutorials – Wednesdays from 9:30 to 11 a.m. – Registration Required
Baffled by technology? Sign up for a 45-minute one-on-one session with a librarian for assistance with anything computer related, such as downloading e-books and audiobooks, filling out online applications, signing up or managing email, or learning to use Microsoft Office software. Bring in your own device or use one of our computers.
Knit and Crochet Club – September 11, 20, 27 at 6 p.m.
For all ages and experience levels, Knit and Crochet Club meets at 6 p.m. on the scheduled dates.  Bring your own project to work on.  Beginners welcome.
The 3D Printer is back! – Make an appointment to download and print a model. Check out www.thingiverse.com for some ideas before you come.
Library closed Monday, September 4th in honor of Labor Day
ResCare Workforce Services – Tuesdays from 9 am to 12 p.m.
starting in September
FoodShare Employment and Training Talent Development Specialist on-site weekly at Aram Public Library. Walk-in or by appointment. The FoodShare Employment and Training (FSET) program is a free program that helps FoodShare members build their job skills and find jobs. To schedule an appointment with Nick at Aram Public Library please call 262-741-5180
Costume Exchange Donations Needed!
Aram Public Library is looking for gently used Halloween costumes and accessories for our upcoming Costume Exchange program, October 6-7!  Donated items will be made available to area children—at no monetary cost to them.  Donors will receive tax receipts, if desired. Donations can be dropped off at the library any time during normal business hours. Thank you so much for supporting our local children!
Cook the Book Club – No meeting in September–join us in October! 
Adult Craft Night: A Candy Bouquet
Monday, September 11 and Thursday, September 14 from 6 to 7:30 p.m.
Registration is required. 
Did you know that you can use M&Ms as one of the supplies to make a candy bouquet?  Join us on one of our September adult craft nights and find out how to do that. All materials are provided, but space is limited so registration is required.
Adult Writing Group – September 12 at 5:30 p.m.
If you're an aspiring writer seeking an incentive to get started, meet with others on the second Tuesday of each month for an opportunity to practice your skills. Materials, refreshments, and writing prompts supplied; all you need to bring is your imagination!
Using Your Garden's Bounty in Your Slow Cooker –
Tuesday, September 19 at 3 p.m. This program has been cancelled due to lack of signups.
Gardens and farmer's markets are bursting with fresh vegetables this time of year. Amanda Kostman from UW-Extension will teach us how to make fresh and convenient meals for our families.
Aram Book Club – Thursday, September 21 at 6:30 p.m.
The Woman in Cabin 10 by Ruth Ware
In this tightly wound, enthralling story reminiscent of Agatha Christie's works, Lo Blacklock, a journalist who writes for a travel magazine, has just been given the assignment of a lifetime: a week on a luxury cruise with only a handful of cabins. With surprising twists, spine-tingling turns, and a setting that proves as uncomfortably claustrophobic as it is eerily beautiful, Ruth Ware offers up a taut and intense read in The Woman in Cabin 10—one that will leave even the most sure-footed reader uneasy long after the last page is turned.
Guilty Pleasures Book Club – Monday, September 25 at 6 p.m.
This club meets monthly to discuss selections in the romance and mystery genres.
Memory Cafe – Does not meet in September, join us in October!
A Memory Café is a social gathering place for persons with memory loss, mild cognitive impairment, early Alzheimer's, or other dementia and their family and friends. Cafés meet on the fourth Tuesday of each month.
BookMyne available for your devices – Download today!
Need access to your library catalog on the go? Add SirsiDynix's BookMyne app, available both on Google Play and the Apple App Store. You can check availability of items by typing the title or scanning an item UPC, place holds, view best seller lists, manage your library account, and more.
Interpreters are available for all programs upon request. Please notify the library at least 3 days in advance of the program date.
Especially for Seniors
At the Library
Homebound Library Services
If you are a resident of a retirement living facility and unable to come to the Library due to disability, illness, or injury, our Friends of the Library group may be able to deliver materials to you on a monthly basis. Please contact the library at 262-728-3111 for more information.
Computer/Smartphone Assistance
Make an appointment with a librarian for a 45-minute one-on-one session with a librarian for assistance with anything computer related, such as downloading e-books and audiobooks, filling out online applications, signing up or managing email, or learning to use Microsoft Office software. Bring in your own device or we will use one of our computers.
Take Your Grandkids to…
Looking to show your darling grandkids a great time (or just need to get them out of mom's hair for a bit!)? Check our event calendar for lots of fun programs hosted by our children's librarian. You can also call the library to get information on our many programs at 262-728-3111.
Around Town
Walworth County Aging and Disability Resource Center.
Access to community resources and services for older adults and adults with disabilities. (262) 741-3400 or 800-365-1587 (Toll Free)
Telecare
Telecare is a community service program designed specifically for older adults who live alone regardless of their mobility, health status or degree of isolation. Participants are called daily by dedicated volunteers to ensure that all is well. Please call the Volunteer Connection, Inc at 262-472-9632 for more information about this valuable service.
Senior Lunch Centers
Six senior dining centers provide nutritious lunch time meals to persons who are aged 60 and older. (Delavan location: Woodview Park Apartments, 353 Tyrrell Court (M,W,F), 262-728-5618). In addition to providing a good meal, senior dining centers offer an opportunity for older adults to socialize with other members of their community. Affordable, home-style meals are served. Reservations are required at least one business day in advance to hold a meal at a senior dining center.
Senior Resource Program
Access the Senior Resource Program for help with:
Advance Care Planning
Medication assistance programs
Alternative living
Senior care
In-home assessments
Helping distance caregivers
Locating services
Any questions related to seniors and services available.
There is no charge to access the Senior Resource Coordinator. This is a service provided to your community, funded by Aurora Health Care. (262) 249-5037
SeniorCare
Wisconsin's Prescription Drug Assistance Program for those residents who are 65 years of age or older. This can help residents save money on their prescription drugs and related health care costs. Call 1-800-657-2038 for information, or find additional help with medical bills.
Transportation Services
Walworth County Transportation Program 262-741-3168
Tri-County American Red Cross 877-605-0760
VIP Services Inc Elkhorn 262-723-4043
Medix Specialized Transportation 866-787-1077
Para Tech Ambulance 800-421-2234
Links & Things
Helpful websites and phone numbers to know: