Upcoming Events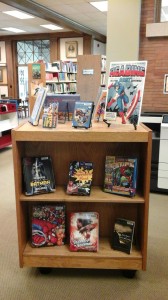 Make 2018 a Year of Learning!
Gale Courses deliver hundreds of engaging, instructor-led online courses focused on professional development, technology skills, and personal enrichment. Six-week courses are taught by college instructors and experts in the field, ensuring a high-quality, high-impact educational experience for all ages. This amazing resource is available to you at no cost with a library card! Click on the Gale Courses icon at the bottom of Aram Library's homepage or under the Research/Databases menu.
¡Los cursos de Gale ya están disponibles!
Gale Courses ofrece cientos de atractivos cursos en línea, dirigidos por instructores, enfocados en el desarrollo profesional, habilidades con la tecnología, y enriquecimiento profesional. Los cursos de 6 semanas son enseñados por profesores de universidad y expertos en el área, asegurando una experiencia educacional de alta calidad para todas las edades. ¡Este recurso está disponible sin costo para usted con su Tarjeta de la Biblioteca! En el sitio web de la Biblioteca haga clic en el icono de Gale Courses o en el menú de Research/Databases.
WiFi Hotspots now available for checkout!
Aram Public Library is now offering "mobile hotspots" — Internet access through a device the size of a cellphone which can be checked out and used at home or anywhere that receives a cell phone signal. Hotspots may be checked out for a period of seven days, with a late fee of $5 per day. Each hotspot unit is checked out in a container with a micro-USB cord, AC charger with USB port, instruction sheet and a copy of the library's policy. Borrowers must have a library card in good standing and be at least 18 years old. Contact the library to inquire about availability.
¡Dispositivos de WiFi móvil disponibles en la biblioteca!
La biblioteca Pública Aram está ofreciendo dispositivos de WiFi móvil (mobile hotspots) – Acceso a internet desde un dispositivo del tamaño de un celular que puede usar en casa o cualquier lugar que reciba señal de celular. Los podrá pedir prestados por un periodo de 7 días, con recargo de $5 por cada día de retraso. Cada dispositivo vendrá en un contenedor con un cable micro-USB, cargador AC con puerto USB, manual de instrucciones y una copia de las políticas de la Biblioteca. Debe tener una credencial de la biblioteca vigente y tener al menos 18 años. Contacte a la Biblioteca para ver la disponibilidad.
Tech Tutorials – Wednesdays at 9:30 & 10:15 a.m. – Registration Required
Baffled by technology? Sign up for a 45-minute one-on-one session with a librarian for assistance with anything computer related, such as downloading e-books and audiobooks, filling out online applications, signing up or managing email, or learning to use Microsoft Office software. Bring in your own device or use one of our computers.
Tutorías de Tecnología – Miércoles de 9:30 & 10:15 a.m. – Requiere Inscribirse
¿Frustrado con la tecnología? Inscríbase para una sesión de 45 minutos uno a uno con uno de nuestros bibliotecarios para que le ayude con cualquier cosa relacionada con la computadora tales como descargas, libros electrónicos, llenar aplicaciones, correo electrónico o aprender a usar Microsoft Office. Traiga su propio dispositivo o utilice una de nuestras computadoras.
Knit and Crochet Club – December 3, 10, 19, 26 at 6 p.m.
For all ages and experience levels, Knit and Crochet Club meets at 6 p.m. on the scheduled dates.  Bring your own project to work on.  Beginners welcome.
Club de Tejer y Crochet – diciembre 3, 10, 19, 26 6 p.m.
Para todas las edades y niveles. El club de Tejer y Crochet se reúne a las 6 p.m. en las fechas acordadas. Traiga su propio proyecto. Los principiantes son bienvenidos.
ResCare Workforce Services – Tuesdays from 9 am to 12 p.m.
FoodShare Employment and Training Talent Development Specialist on-site weekly at Aram Public Library. Walk-in or by appointment. The FoodShare Employment and Training (FSET) program is a free program that helps FoodShare members build their job skills and find jobs. To schedule an appointment with Nick at Aram Public Library please call 262-741-5180
Servicios ResCare Workforce – los martes de 9 a.m. a 12 p.m.
El programa de Empleos y Entrenamiento de FoodShare (FSET) es un programa gratuito que ayuda a los miembros de FoodShare a mejorar sus habilidades y encontrar trabajo. Reúnase con el Desarrollador Especialista de Talento de FSET en la Biblioteca Pública Aram, quien podrá evaluar sus fortalezas, necesidades y preferencias para ayudarle a conseguir trabajo. Puede llegar o llame a Nick al 262-741-5180 para agenda una cita.
Exciting News! Children's and teen materials checked out at Aram Public Library will no longer be charged overdue fines.  Additionally, fines on children's and teen material already accrued on user's accounts will be erased.
Aram Public Library is committed to supporting the educational goals of our community's youth. Creating financial barriers to public library use is counterproductive and goes against the library's mission to encourage more use, not less.
However, "no fines" does not mean "no responsibility".  Borrowers will be billed for replacement costs for items that are more than 28 days overdue. Patrons are unable to check out any more materials until the overdue ones are returned. If a patron owes more than $25.00 for an unreturned item for more than 6 weeks, their account is sent to a collection agency, ensuring that the library is acting responsibly with taxpayer dollars.
Borrowers can renew materials by calling the library or logging into their online account to avoid being billed for replacement materials.
Overdue fines are based on the type of material not the age of the borrower. An adult checking out a Dr. Seuss book would not be assessed overdue fines; a James Patterson novel checked out on a child's card will be assessed fines. Materials belonging to other libraries may still have overdue fines assessed.
For those who just don't feel right not paying late fees, Aram Public Library, The Friends of Aram Public Library, and the Delavan Aram Public Library Foundation all gratefully accept donations. Contact the library for more information.
¡Noticias Emocionantes! A los materiales de niños y adolescentes que saque de la biblioteca ya no se les cobrarán multas por retraso. Además, se eliminarán las multas por los materiales de niños y adolescentes ya acumuladas en las cuentas de los usuarios.
La Biblioteca Pública Aram está comprometida en apoyar las metas educativas de la juventud de nuestra sociedad. El crear barreras financieras para el uso de la biblioteca es contra productivo y va en contra de la misión de la biblioteca de animar más, no menos.
Sin embargo, "cero multas" no significa "cero responsabilidad." A los usuarios se les cobrará el costo por reemplazar los materiales que tengan atrasados por más de 28 días. Esas personas no podrán sacar ningún otro material hasta que hayan regresado los materiales atrasados. Si una persona debe más de $25.00 por objetos que no haya regresado por más de 6 semanas, su cuenta se enviará a una agencia de recolección, asegurándose que la biblioteca este siendo responsable con el dinero de los impuestos de los contribuyentes.
Los prestamistas pueden renovar los materiales llamando a la biblioteca o ingresando a su cuenta en línea para evitar ser multados por el costo de reemplazar los materiales.
Las multas por los materiales atrasados se basan en el tipo de material, no en la edad del usuario. A un adulto sacando un libro de Dr. Seuss no se le cobrarán multas por retraso; pero una novela de James Patterson prestada en la cuenta de un niño estará sujeta a cargos por retraso. Los materiales propiedad de otras bibliotecas estarán sujetos a multas por retraso.
Para aquellos que sientan culpables por no pagar multas atrasadas, la Biblioteca Pública Aram, Amigos de la Biblioteca Pública Aram y la Fundación de la Biblioteca Pública Aram agradecidamente aceptan donaciones. Contacte a  la biblioteca para más información.
Read Off Your Fines
Saturday, December 1 from 10 a.m. to 12 p.m.
Fines got you down? Read off your fines at the library!  Each participant will receive $1 off of their fines for each 15 minutes read at the library from 10 a.m. to 12 p.m.  Just sign in, start reading, and sign out when you're finished.
Read Off Your Fines
Sábado 1 de diciembre de 10 a.m. a 12 p.m.
¿Tiene multas?  Disminuya sus multas leyendo en la biblioteca. Cada participante descontará $1 de su multa por cada 15 minutos de lectura en la biblioteca de 10 a.m. a 12 p.m.  Simplemente regístrese, empiece a leer y firme su salida cuando termine
Tiles with Style – Monday, December 3 at 6 p.m.
Registration required.
By popular request we are repeating one of our summer crafts: create an arty necklace using a glass tile and vibrant ink. All materials supplied, but space is limited.
Tiles with Style – Monday, December 3 at 6:00 p.m.
Es Necesario Inscribirse.
Por demanda popular, estamos repitiendo una de nuestras manualidades de verano: creé un collar utilizando cristales y tinta vibrante. Proporcionaremos todos los materiales pero el espacio es limitado.
Adult Writing Group
Tuesday, December 4 & 18 at 5:30 p.m.
If you're an aspiring writer seeking an incentive to get started, meet with others on the first and third Tuesday of each month for an opportunity to hone your skills. Bring examples of your work to share with the group!
Grupo de Escritura Para Adultos
martes 4 y 18 de diciembre a las 5:30 p.m.
Si usted es un aspirante a escritor buscando un incentivo para empezar, reúnase con otros el primer y tercer martes de cada mes para tener una oportunidad para pulir sus habilidades. ¡Traiga ejemplos de su trabajo para compartir con el grupo!
Lakeshores Memory Café – Friday, December 7
at Burlington Public Library at 11:00 a.m.
Memory Cafés offer people with dementia and their care partners a safe welcoming environment in which to enjoy regular social interaction with others in similar circumstances.   Take advantage of this partnership between the Burlington Public Library, Lake Geneva Public Library, Aram Public Library (Delavan) and the Alzheimer's Association.  This memory café will rotate between the three libraries on the first Friday of each month at 11:00am. First time attendees, please call the Alzheimer's Association at 800-272-3900.
Lakeshores Memory Café – Viernes 7 de diciembre
en la Biblioteca Pública de Burlington a las 11:00 a.m.
Memory Cafés ofrece a las personas con demencia y sus familias un ambiente amigable en donde pueden disfrutar de interacciones sociales normales con otros en circunstancias similares.   Tome ventaja de este trabajo en conjunto con la Biblioteca Pública de Burlington, Biblioteca Pública de Lake Geneva, Biblioteca Pública Aram (Delavan) y la Asociación de Alzheimer.  Este memory café rotará entre las 3 bibliotecas el primer viernes de cada mes a las 11:00am. Los que asisten por primera vez, deben de llamar a la Asociación de Alzheimer al 800-272-3900.
Wrap Up the Holidays with Aram Public Library!
Paper, tape, ribbons, and gift tags will be available for public use on the following days:
December 7th from 9am – 4pm
December 14th from 9am – 4pm
December 16th from 1pm – 3pm
December 21st from 9am – 4pm
December 23rd from 1pm – 3pm
We'll supply the paper and supplies. You supply the presents! No library card required.
Adult Craft: A Different Kind of Christmas Tree
Monday, December 10 and Thursday, December 13
from 6 to 7:30 p.m.
Registration is required.
Join us for one of our December adult craft nights where we will be making a unique Christmas tree plaque. All materials are provided, but space is limited so please register.
Manualidad para Adultos: Un Árbol de Navidad Diferente-
lunes 10 y jueves 13 de  Diciembre de 6 a 7:30 p.m.
Es Necesario Inscribirse.
Venga con nosotros a una de nuestras noches de manualidades para adultos donde haremos una  placa única de un árbol de navidad. Todos los materiales serán provistos pero el espacio es limitado, así que por favor inscríbase.
Bettman & Halpin – Thursday, December 13 at 7 p.m.
at the Riviera Ballroom in Lake Geneva
This holiday season the Aram Public Library in Delavan, the Barrett Memorial Library in Williams Bay, the Lake Geneva Library, and the Matheson Memorial Library in Elkhorn are bringing Folk/Americana recording artists Bettman & Halpin to our area for a special one-night family concert featuring Bettman & Halpin's signature high-energy upbeat bluegrass/roots inspired compositions, beautiful ballads with soaring vocals and heartfelt lyrics, and groovy feel-good songs that audiences will be singing in their heads for weeks thereafter. Interspersed between these songs and instrumentals, they tell stories. Best of all, this concert is completely free & open to everyone! Parking is free in Lake Geneva during the winter months.
Bettman y Halpin, jueves 13 de diciembre a las 7:00 p.m.
en la Riviera Ballroom, Lake Geneva
En esta temporada de fiestas la Biblioteca Pública Aram en Delavan, la Biblioteca Barret Memorial en Williams Bay, la Biblioteca de Lake Geneva, y la Biblioteca Matheson Memorial en Elkhorn traen a los artistas de estudio del género Folk/Americana, Bettman y Halpin, a nuestra área para un concierto familiar único en la noche destacando las composiciones particulares de Bettman y Halpin alegres y energéticas inspiradas en las raíces del bluegrass, bellas baladas con voces elevadas y letras sinceras, y canciones para sentirse bien que la audiencia cantará en su cabeza por semanas después. Mezclado entre las canciones e instrumentales ellos cuentan historias, Lo mejor es que ¡este concierto es completamente gratis y abierto a todos! El estacionamiento es gratis en Lake Geneva durante el invierno.
Santa Visits the Library & Magic Scratch Ornaments –
Saturday, December 15 from 10 a.m. to 11:30 a.m.
Santa Claus is coming to the library!  Bring the whole family for the chance to sit on St. Nick's lap and tell him your holiday wishes.  Parents don't forget to bring your cameras!   We will also be making holiday ornaments!  Santa's visit, the ornament supplies, AND the cookies for munching are all made possible by the generosity of the Friends of the Aram Public Library.
Santa Visita la Biblioteca + Decoraciones Magic Scratch –
sábado 15 de diciembre de 10 a.m. a 11:30 a.m.
¡Santa Claus viene a la biblioteca! Traiga a toda la familia para sentarse con Santa y pedirle todos sus deseos de navidad. Padres, ¡no olviden traer sus cámaras! También haremos adornos de navidad. La visita de santa, los materiales para los adornos Y las galletas que comeremos son todos posibles gracias a la generosidad de nuestros Amigos de la Biblioteca Pública Aram.
Edible Holiday Houses
Tuesday, December 18 AND Wednesday, December 19
from 5:30 p.m. to 7:30 p.m.
Registration required.
Put your construction skills to the test as you design and decorate a house made entirely out of graham crackers, candy, and frosting!  Yum!  All materials will be provided. Stop by either information desk or call (262) 728-3111 to sign up for a 45-minute time slot.
Casas de Navidad Comestibles – martes 18 de diciembre
Y miércoles 19 de diciembre de 5:30 p.m. a 7:30 p.m.
Es Necesario Inscribirse.
¡Ponga a prueba su habilidad de construcción al diseñar y decorar una casa hecha enteramente de galletas, dulces y glaseado! ¡Yum! Proporcionaremos todos los materiales. Pase a la mesa de atención o llame al (262) 728-3111 para inscribirse a una sesión de 45 minutos.
Aram Book Club does not meet in December – See you January 17
El Club de Libros Aram no se reúne en diciembre – Nos vemos el 17 de enero
Guilty Pleasures Book Club – Monday, December 17 at 6 p.m.
This club meets monthly to discuss selections in the romance and mystery genres
Club de Libros Guilty Pleasures – lunes 17 de diciembre a las 6 p.m.
Este club se reúne cada mes para discutir la selección en géneros de romance y misterio.
RBDigital for E-Magazines
Enjoy unlimited digital access to all your favorite magazines – at no cost! Click on the RBDigital button on our website (under the Borrow menu/ Digital Magazines) to sign up, and download the app to find and read a constantly updated selection of titles.
RBDigital para E-Magazines
Disfrute de acceso ilimitado a todas sus revistas favoritas – ¡sin costo! Haga clic en en el botón de RBDigital en nuestra página web (debajo del menú borrow/Digital Magazines) para poder registrarse, y descargue la aplicación para leer nuestra selección de revistas que constantemente estamos actualizando.
BookMyne available for your devices – Download today!
Need access to your library catalog on the go? Add SirsiDynix's BookMyne app, available both on Google Play and the Apple App Store. You can check availability of items by typing the title or scanning an item UPC, place holds, view best seller lists, manage your library account, and more.
BookMyne está disponible para sus dispositivos – ¡Descárguela hoy mismo!
¿Necesita acceso al catálogo de la biblioteca en donde quiera que esté? Descargue la aplicación SirsiDynix's BookMyne, disponible en Google Play y App Store. Vea la disponibilidad del material escribiendo el título o escaneando el código de barras, reserve material, vea los libros más vendidos, maneje su cuenta de la biblioteca y más.
Interpreters are available for all programs upon request. Please notify the library at least 3 days in advance of the program date.