Upcoming Events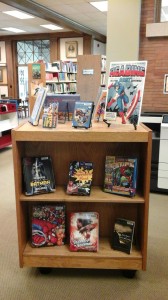 Make 2017 a Year of Learning!
Gale Courses deliver hundreds of engaging, instructor-led online courses focused on professional development, technology skills, and personal enrichment. Six-week courses are taught by college instructors and experts in the field, ensuring a high-quality, high-impact educational experience for all ages. This amazing resource is available to you at no cost with a library card! Click on the Gale Courses icon at the bottom of Aram Library's homepage or under the Research/Databases menu.
¡Los cursos de Gale ya están disponibles!
Gale Courses ofrece cientos de atractivos cursos en línea, dirigidos por instructores, enfocados en el desarrollo profesional, habilidades con la tecnología, y enriquecimiento profesional. Los cursos de 6 semanas son enseñados por profesores de universidad y expertos en el área, asegurando una experiencia educacional de alta calidad para todas las edades. ¡Este recurso está disponible sin costo para usted con su Tarjeta de la Biblioteca! En el sitio web de la Biblioteca haga clic en el icono de Gale Courses o en el menú de Research/Databases.
WiFi Hotspots now available for checkout!
Aram Public Library is now offering "mobile hotspots" — Internet access through a device the size of a cellphone which can be checked out and used at home or anywhere that receives a cell phone signal. Hotspots may be checked out for a period of seven days, with a late fee of $5 per day. Each hotspot unit is checked out in a container with a micro-USB cord, AC charger with USB port, instruction sheet and a copy of the library's policy. Borrowers must have a library card in good standing and be at least 18 years old. Contact the library to inquire about availability.
¡Dispositivos de WiFi móvil disponibles en la biblioteca!
La biblioteca Pública Aram está ofreciendo dispositivos de WiFi móvil (mobile hotspots) – Acceso a internet desde un dispositivo del tamaño de un celular que puede usar en casa o cualquier lugar que reciba señal de celular. Los podrá pedir prestados por un periodo de 7 días, con recargo de $5 por cada día de retraso. Cada dispositivo vendrá en un contenedor con un cable micro-USB, cargador AC con puerto USB, manual de instrucciones y una copia de las políticas de la Biblioteca. Debe tener una credencial de la biblioteca vigente y tener al menos 18 años. Contacte a la Biblioteca para ver la disponibilidad.
Tech Tutorials – Wednesdays from 9:30 to 11 a.m. – Registration Required
Baffled by technology? Sign up for a 45-minute one-on-one session with a librarian for assistance with anything computer related, such as downloading e-books and audiobooks, filling out online applications, signing up or managing email, or learning to use Microsoft Office software. Bring in your own device or use one of our computers.
Tutorías de Tecnología – Miércoles de 9:30 a 11 a.m. – Requiere Inscribirse
¿Frustrado con la tecnología? Inscríbase para una sesión de 45 minutos uno a uno con uno de nuestros bibliotecarios para que le ayude con cualquier cosa relacionada con la computadora tales como descargas, libros electrónicos, llenar aplicaciones, correo electrónico o aprender a usar Microsoft Office. Traiga su propio dispositivo o utilice una de nuestras computadoras.
Knit and Crochet Club – November 6, 13, 29 at 6 p.m.
For all ages and experience levels, Knit and Crochet Club meets at 6 p.m. on the scheduled dates.  Bring your own project to work on.  Beginners welcome.
Club de Tejer y Crochet – Lunes, 6 y 13 de noviembre, Miércoles 19 de noviembre 6 p.m.
Para todas las edades y niveles. El club de Tejer y Crochet se reúne a las 6 p.m. en las fechas acordadas. Traiga su propio proyecto. Los principiantes son bienvenidos.
ResCare Workforce Services – Tuesdays from 9 am to 12 p.m.
FoodShare Employment and Training Talent Development Specialist on-site weekly at Aram Public Library. Walk-in or by appointment. The FoodShare Employment and Training (FSET) program is a free program that helps FoodShare members build their job skills and find jobs. To schedule an appointment with Nick at Aram Public Library please call 262-741-5180
Pajamarama Collection Site – October 17 through November 17
We are proud to support the Delavan Lioness Club in their annual children's pajama collection for various local charities. Bring your donations of new pajamas in any children's size and place them in the cradle near the Adult Services desk. Donations benefit children in need at Twin Oaks Shelter, Association for the Prevention of Family Violence and Pregnancy Helpline.
Pajamarama Sitio de Recolección – hasta el 17 de noviembre
Estamos orgullosos de apoyar el Club de Leonas de Delavan en su recolección de pijamas de niños para varias organizaciones caritativas locales. Traiga sus donaciones de pijamas nuevas de cualquier talla de niño y póngala en la cuna cerca de la mesa de servicios. Las donaciones beneficiaran a los niños y niñas del albergue Twin Oaks, La Asociación para la Prevención de Violencia Familiar y la Línea de Ayuda a Embarazadas.
Food for Fines – November 1 to 30
Do your part to replenish the food pantry supplies at the same time you reduce your fines for overdue library materials.  For each nonperishable food item you bring in, we'll take $1 off your overdue fines.  All donations must be in good condition and not past their expiration or sell-by dates. (Ramen noodles and gelatin mixes will not be accepted.) Food for Fines does not apply to charges for damaged or lost materials.
Comida por Multas – del 1 -30 de noviembre
Haga su parte para reponer el banco de comida al mismo tiempo que reduce sus multas de libros y material de la biblioteca atrasados. Por cada producto no perecedero que traiga, reduciremos $1 de su multa. Todas las donaciones deben estar en Buena condición y no caducados. (No aceptaremos fideos Ramen ni polvos para gelatina). Este programa no aplica para reducir cargos por materiales dañados o extraviados.
Happiness Conundrum – Wednesday, November 1 at 5:30 p.m.
What does happiness look like and why is there such a preoccupation with it by society at large?  Terry Thourson will unravel the mysteries of finding the real meaning behind the attainment of "true" happiness. He will look at happiness from the physical, psychological, emotional, social, and spiritual domains. You will walk away with a new-found vision of what it is to be human and what it means to be happy.
El Enigma de la Felicidad– Miércoles 1º de noviembre a las 5:30 p.m.
¿Qué es la felicidad y por qué hay tal preocupación por ella por parte de la sociedad en general?
Terry Thourson revelará los misterios de encontrar el significado verdadero tras haber logrado la "verdadera" felicidad. Veremos a la felicidad desde el punto de vista físico, psicológico, emocional, social y espiritual; usted saldrá con una nueva visión de lo que significa ser humano y cambiará por siempre su paisaje con respecto la idea de la felicidad.
Cook the Book Club – Monday, November 6 at 6 p.m.
Each month a different genre of cooking will be featured. This month we will explore Southern Cooking. Participants can peruse the cookbooks on display at the library prior to the meeting date and select a recipe to prepare. The evening of the meeting we will have a chance to sample all the recipes chosen and discuss the preparation and taste. Come savor with us!
Cook the Book Club (Club de Libros de Cocina) – Lunes 6 de Noviembre a las 6 p.m.
Cada mes presentaremos un género diferente de cocina. Este mes exploraremos la Comida del Sur. Los participantes podrán buscar los libros mostrados en la biblioteca antes de la reunión y preparar alguna receta. La noche de la reunión podremos probar todas las recetas seleccionadas y discutiremos su sabor y preparación. ¡Venga a saborear con nosotros!
DIY Make and Take Pie – November 7 and November 8 at 5:30 p.m.
Registration is required.
Nothing says autumn like homemade apple pie.  Warm, cozy, and oh-so-delicious!  Sign up to create a crust and filling for your very own apple pie.  Give it as a gift or enjoy it yourself!  This program is great for pie enthusiasts of almost any age, so bring your family along and make a pie together!  All materials will be provided.  Space is limited, so registration is required.  Stop by the Adult Desk or call (262) 728-3111, x100 to reserve your spot.
DIY Make and Take Pie – 7 de noviembre a las 5:30pm Es necesario inscribirse.
Nada dice otoño como un pay de manzana hecho en casa. ¡Calientito y delicioso! Inscríbase para hacer la base y relleno de su propio pay de manzana. Regáleselo a alguien o disfrútelo usted mismo. Todos los materiales serán provistos. El espacio es limitado, por eso es necesario inscribirse. Pase a la mesa de atención para adultos o llame al (262) 728-3111, x100 para reservar su lugar.
Health Insurance Marketplace Assistance –
Thursday, November 9 from 12:30 to 4 p.m.
Dustin Schlesner from ClearChoice Insurance will be available to offer free, no-obligation assistance to help you understand the Health Insurance Marketplace and your health insurance options. Drop in or contact Dustin at 920-707-1423 to reserve a time.
Ayuda con el Seguro de Salud Marketplace – jueves 9 de noviembre de 12:30pm-4:00pm
Dustin Schlesner de la aseguradora ClearChoice estará disponible para ofrecer ayuda gratuita, sin ninguna obligación, para ayudarle a entender el Health Insurance Marketplace y sus opciones de seguro. Venga o contacte a Dustin al 920-707-1423 para reservar su cita.
Aram Book Club – Thursday, November 16 at 6:30 p.m.
Join with this lively group in discussing The Bookshop on the Corner by Jenny Colgan.  A "literary matchmaker" who takes joy in pairing readers with perfect books moves from the city to a sleepy village where she becomes a bookmobile driver and rediscovers her sense of adventure while searching for a happy ending of her own.
Club de Libros Aram – Jueves 16 de noviembre a las 6:30 p.m.
Venga con nosotros a discutir el libro The Bookshop on the Corner por Jenny Colgan. Una "buscadora de parejas de libros" que se complace en juntar lectores con los libros perfectos de la ciudad a un pueblo soñoliento donde se convierte en la conductora de la biblioteca móvil y vuelve a descubrir el sentido de la aventura al mismo tiempo que busca un final feliz para ella.
Adult Writing Group – November 21 at 5:30 p.m. (No meeting November 7th)
If you're an aspiring writer seeking an incentive to get started, meet with others on the first and third Tuesday of each month for an opportunity to hone your skills. Bring examples of your work to share with the group!
Grupo de Escritura para Adultos – 21 de Noviembre 5:30 p.m. (No habrá reunión el 7 de noviembre)
Si usted aspira a ser escritor y está buscando un incentivo para empezar, reúnase con otros otros para pulir sus habilidades el primer y tercer martes de cada mes. ¡Traiga ejemplos de su trabajo para compartir con el grupo!
In observance of the Thanksgiving holiday, Aram Public Library will close at 5 pm on Wednesday, November 22 and remain closed through Friday, November 24.
Debido al Día de Acción de Gracias, la Biblioteca Pública Aram cerrará a las 5:00 p.m. el día miércoles 22 de noviembre y permanecerá cerrada hasta el viernes 24 de noviembre.
Guilty Pleasures Book Club – Monday, November 27 at 6 p.m.
This club meets monthly to discuss selections in the romance and mystery genres. This month's title is Milwaukee Autumns Can Be Lethal by Kathleen Barrett.  Lawyer turned legal researcher and amateur sleuth, Beth Hartley is hired to do some work for an old law-school acquaintance, Don Balstrum. But when she finds Don murdered in his office, her meticulous mind for details leads her immediately on the path of a complex crime.  Contact Aram Library if you would like a copy to be reserved for you.
Club de Líbros Guilty Pleasures (Placeres Culpables) – Lunes 27 de Noviembre a las 6 p.m.
Este club se reúne cada mes para discutir la selección en géneros de romance y misterio.
Contacte a la Biblioteca Pública Aram para saber cuál es el libro de este mes o para reservar una copia para usted.
RBDigital for E-Magazines
Enjoy unlimited digital access to all your favorite magazines – at no cost! Click on the RBDigital button on our website (under the Borrow menu/ Digital Magazines) to sign up, and download the app to find and read a constantly updated selection of titles.
RBDigital para E-Magazines
Disfrute de acceso ilimitado a todas sus revistas favoritas – ¡sin costo! Haga clic en en el botón de RBDigital en nuestra página web (debajo del menú borrow/Digital Magazines) para poder registrarse, y descargue la aplicación para leer nuestra selección de revistas que constantemente estamos actualizando.
BookMyne available for your devices – Download today!
Need access to your library catalog on the go? Add SirsiDynix's BookMyne app, available both on Google Play and the Apple App Store. You can check availability of items by typing the title or scanning an item UPC, place holds, view best seller lists, manage your library account, and more.
BookMyne está disponible para sus dispositivos – ¡Descárguela hoy mismo!
¿Necesita acceso al catálogo de la biblioteca en donde quiera que esté? Descargue la aplicación SirsiDynix's BookMyne, disponible en Google Play y App Store. Vea la disponibilidad del material escribiendo el título o escaneando el código de barras, reserve material, vea los libros más vendidos, maneje su cuenta de la biblioteca y más.
Interpreters are available for all programs upon request. Please notify the library at least 3 days in advance of the program date.
Especially for Seniors
At the Library
Homebound Library Services
If you are a resident of a retirement living facility and unable to come to the Library due to disability, illness, or injury, our Friends of the Library group may be able to deliver materials to you on a monthly basis. Please contact the library at 262-728-3111 for more information.
Computer/Smartphone Assistance
Make an appointment with a librarian for a 45-minute one-on-one session with a librarian for assistance with anything computer related, such as downloading e-books and audiobooks, filling out online applications, signing up or managing email, or learning to use Microsoft Office software. Bring in your own device or we will use one of our computers.
Take Your Grandkids to…
Looking to show your darling grandkids a great time (or just need to get them out of mom's hair for a bit!)? Check our event calendar for lots of fun programs hosted by our children's librarian. You can also call the library to get information on our many programs at 262-728-3111.
Around Town
Walworth County Aging and Disability Resource Center.
Access to community resources and services for older adults and adults with disabilities. (262) 741-3400 or 800-365-1587 (Toll Free)
Telecare
Telecare is a community service program designed specifically for older adults who live alone regardless of their mobility, health status or degree of isolation. Participants are called daily by dedicated volunteers to ensure that all is well. Please call the Volunteer Connection, Inc at 262-472-9632 for more information about this valuable service.
Senior Lunch Centers
Six senior dining centers provide nutritious lunch time meals to persons who are aged 60 and older. (Delavan location: Woodview Park Apartments, 353 Tyrrell Court (M,W,F), 262-728-5618). In addition to providing a good meal, senior dining centers offer an opportunity for older adults to socialize with other members of their community. Affordable, home-style meals are served. Reservations are required at least one business day in advance to hold a meal at a senior dining center.
Senior Resource Program
Access the Senior Resource Program for help with:
Advance Care Planning
Medication assistance programs
Alternative living
Senior care
In-home assessments
Helping distance caregivers
Locating services
Any questions related to seniors and services available.
There is no charge to access the Senior Resource Coordinator. This is a service provided to your community, funded by Aurora Health Care. (262) 249-5037
SeniorCare
Wisconsin's Prescription Drug Assistance Program for those residents who are 65 years of age or older. This can help residents save money on their prescription drugs and related health care costs. Call 1-800-657-2038 for information, or find additional help with medical bills.
Transportation Services
Walworth County Transportation Program 262-741-3168
Tri-County American Red Cross 877-605-0760
VIP Services Inc Elkhorn 262-723-4043
Medix Specialized Transportation 866-787-1077
Para Tech Ambulance 800-421-2234
Links & Things
Helpful websites and phone numbers to know: