Upcoming Events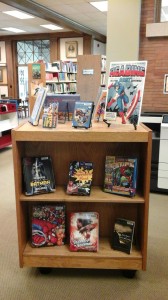 Make 2017 a Year of Learning!
Gale Courses deliver hundreds of engaging, instructor-led online courses focused on professional development, technology skills, and personal enrichment. Six-week courses are taught by college instructors and experts in the field, ensuring a high-quality, high-impact educational experience for all ages. This amazing resource is available to you at no cost with a library card!  Click on the Gale Courses icon at the bottom of Aram Library's homepage or under the Research/Databases menu.
Wi-Fi Hotspots now available for checkout!
Aram Public Library is now offering "mobile hotspots" — Internet access through a device the size of a cellphone which can be checked out and used at home or anywhere that receives a cell phone signal. Hotspots may be checked out for a period of seven days, with a late fee of $5 per day. Each hotspot unit is checked out in a container with a micro-USB cord, AC charger with USB port, instruction sheet and a copy of the library's policy. Borrowers must have a library card in good standing and provide proof that they are at least 18 years old. Contact the library to inquire about availability.
Tech Tutorials – Wednesdays from 9:30 a.m. to 11 a.m.
Registration Required
Baffled by technology? Sign up for a 45-minute one-on-one session with a librarian for assistance with anything computer related, such as downloading e-books and audiobooks, filling out online applications, signing up or managing email, or learning to use Microsoft Office software. Bring in your own device or we will use one of our computers.
Knit and Crochet Club – June 5, 12, 21, 28 @ 6 p.m.
For all ages and experience levels, Knit and Crochet Club meets at 6 p.m. on the scheduled dates.  Bring your own project to work on, share your expertise, and learn from others.  Beginners welcome!
Cook the Book Club – Monday, June 5 at 6 p.m.
Each month a different genre of cooking will be featured. This month we will explore Summer Salads. Participants can peruse the cookbooks on display at the library prior to the meeting date and select a recipe to prepare. The evening of the meeting we will have a chance to sample all the recipes chosen and discuss the preparation and taste. Come savor with us!
Kick Off to Summer with Delavan Parks & Recreation
Friday, June 9 from 1 to 5 p.m. at Veterans Park
Let's start summer off with a bang!  Join Aram Public Library and Delavan Parks & Recreation for an afternoon of fun!  We'll get up close with some Community Helpers and their vehicles—firetrucks and ambulances and squad cars…oh my!—play Giant Angry Birds and Giant Jenga, and see some amazing interactive demonstrations: Delavan's Flying Dragons Martial Arts, Allez Fencing Group LLC, and Pickleball!  Oh, and did we mention folks of all ages can also sign up for Aram's Summer Reading Program right at the park?  What a day!
Understanding Dementia – Monday, June 12 & 19 at 3:30pm
Bonnie Beam-Stratz with the Alzheimer's Association will present a two-part workshop for family caregivers. Learn more about Alzheimer's disease and ways to better communicate and manage challenging behaviors. If a family member or friend is experiencing memory-related issues or a recent diagnosis of Alzheimer's disease/dementia, this free presentation series will provide valuable information.
Adult Craft: Ready, Set, Celebrate: A Decoration for the 4th of July –
Monday, June 12 and Thursday, June 15 from 6 to7:30 p.m.
Registration is required.
We are painting for the June adult craft-red, white, and blue, of course. Our goal is to make a decoration for the 4th of July.  We will be painting 3 wooden spindles and then finishing them up with patriotic ribbon and glitter stars. All materials are provided. Space is limited, so registration is required.  (Please come dressed to work with acrylic paints.)
Aram Book Club – Thursday, June 15 at 6:30 p.m.
We will be discussing Infidel by Ayaan Hirsi Ali. Ultimately a celebration of triumph over adversity, Hirsi Ali's story tells how a bright little girl evolves out of dutiful obedience to become an outspoken, pioneering freedom fighter. Join us!
Meet the Monday Club – Monday, June 19 from 6-7:30 p.m.
Find out what Monday Club is all about during our Open House at Aram Public Library.  An historic women's study group, the Monday Club was begun in Delavan in 1894,  to provide literary enrichment to its members – a notable feature in the 1890's! We continue to learn of books, art, places, etc., and we support Aram Public Library to the best of our ability. We meet in members' homes monthly, September through June. We encourage you to join us as members as we gather monthly for learning and fun. For further information, please call Shirley Peterson (262-728-3152) or Gerri Green (262-725-7015). Do join us!
Build a Bullet Journal – Thursday, June 22 at 5:30 p.m.
Registration is required.
The Bullet Journal is a customizable and forgiving organization system. It can be your to-do list, planner, sketchbook, notebook, and diary, but most likely, it will be all of the above. It will teach you to do more with less, and it's creative and fun!  This program is for ages 9 and up!
Medicare Answer Session – Friday, June 23 at 10 a.m. and 1 p.m.
Do you have questions about Medicare health plans?  If so, you are not the only one.  Please join Frank Souk, a licensed sales representative, to help you navigate the Medicare landscape.  The first meeting will begin at 10am with another starting at 1pm; each will last approximately an hour and a half with ample time for questions to follow.  Frank knows the ins and outs of Medicare health plans, and he can make it easier for you to understand as well.  See you there!
Guilty Pleasures Book Club – Monday,  June 26 at 6 p.m.
This club meets monthly to discuss selections in the romance and mystery genres.
Memory Cafe – Tuesday, June 27 at 10 a.m.
A Memory Café is a social gathering place for persons with memory loss, mild cognitive impairment, early Alzheimer's, or other dementia and their family and friends. Cafés meet on the fourth Tuesday, in a relaxed environment, to visit, share common interests, and enjoy refreshments. Each hour-long monthly cafe is unique and offers a program or activity that's stimulating and fun. If you require assistance to participate, please have someone accompany you.
Historic Building Walking Tour – Tuesday, June 27 at 11 a.m.
Local historian and author, Frank Landi, will be leading a walking tour of buildings featured in his book: Historic Residential Architecture. We will depart from and return to the Library. Wear comfortable walking shoes and dress for the weather!
BookMyne available for your devices – Download today!
Need access to your library catalog on the go? Add SirsiDynix's BookMyne app, available both on Google Play and the Apple App Store. You can check availability of items by typing the title or scanning an item UPC, place holds, view best seller lists, manage your library account, and more.
Interpreters are available for all programs upon request. Please notify the library at least 3 days in advance of the program date.
Especially for Seniors
At the Library
Homebound Library Services
If you are a resident of a retirement living facility and unable to come to the Library due to disability, illness, or injury, our Friends of the Library group may be able to deliver materials to you on a monthly basis. Please contact the library at 262-728-3111 for more information.
Computer/Smartphone Assistance
Make an appointment with a librarian for a 45-minute one-on-one session with a librarian for assistance with anything computer related, such as downloading e-books and audiobooks, filling out online applications, signing up or managing email, or learning to use Microsoft Office software. Bring in your own device or we will use one of our computers.
Take Your Grandkids to…
Looking to show your darling grandkids a great time (or just need to get them out of mom's hair for a bit!)? Check our event calendar for lots of fun programs hosted by our children's librarian. You can also call the library to get information on our many programs at 262-728-3111.
Around Town
Walworth County Aging and Disability Resource Center.
Access to community resources and services for older adults and adults with disabilities. (262) 741-3400 or 800-365-1587 (Toll Free)
Telecare
Telecare is a community service program designed specifically for older adults who live alone regardless of their mobility, health status or degree of isolation. Participants are called daily by dedicated volunteers to ensure that all is well. Please call the Volunteer Connection, Inc at 262-472-9632 for more information about this valuable service.
Senior Lunch Centers
Six senior dining centers provide nutritious lunch time meals to persons who are aged 60 and older. (Delavan location: Woodview Park Apartments, 353 Tyrrell Court (M,W,F), 262-728-5618). In addition to providing a good meal, senior dining centers offer an opportunity for older adults to socialize with other members of their community. Affordable, home-style meals are served. Reservations are required at least one business day in advance to hold a meal at a senior dining center.
Senior Resource Program
Access the Senior Resource Program for help with:
Advance Care Planning
Medication assistance programs
Alternative living
Senior care
In-home assessments
Helping distance caregivers
Locating services
Any questions related to seniors and services available.
There is no charge to access the Senior Resource Coordinator. This is a service provided to your community, funded by Aurora Health Care. (262) 249-5037
SeniorCare
Wisconsin's Prescription Drug Assistance Program for those residents who are 65 years of age or older. This can help residents save money on their prescription drugs and related health care costs. Call 1-800-657-2038 for information, or find additional help with medical bills.
Transportation Services
Walworth County Transportation Program 262-741-3168
Tri-County American Red Cross 877-605-0760
VIP Services Inc Elkhorn 262-723-4043
Medix Specialized Transportation 866-787-1077
Para Tech Ambulance 800-421-2234
Links & Things
Helpful websites and phone numbers to know: