We're Hiring!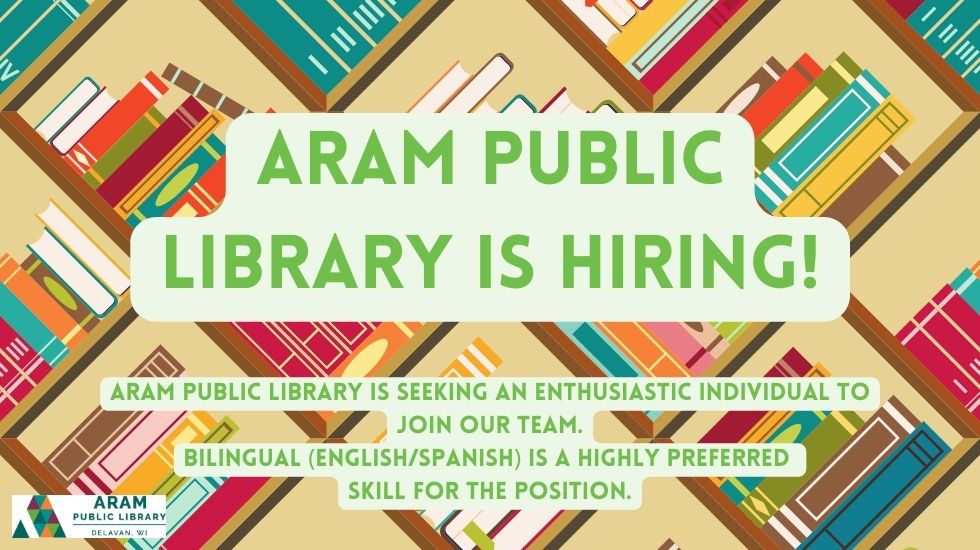 Aram Public Library is seeking an enthusiastic individual to join our team as a Library Assistant.
Do you enjoy helping people? Are you comfortable with technology? Do you have previous retail or customer service experience? Are you bilingual in English and Spanish?
We are looking for an individual who:
Enjoys interacting with people of all ages and backgrounds in a fun, friendly environment
Is comfortable using Microsoft and Google workspace
Is a team player
Is a self-starter
This position will have a flexible schedule of days, evenings, and Saturdays, with approximately 20 hours per week.
Bilingual (English/Spanish is a highly preferred skill for the position.
Starting Wage: $13.88 to $18.04 per hour, depending on qualifications. Please submit applications by 4:30pm Monday, June 27th, 2022.
Applications are available Monday through Friday 8:00am to 4:30pm at Delavan City Hall, 123 S. Second Street, Delavan, WI 53115, or online at www.ci.delavan.wi.us
Applications can be delivered to City Hall or e-mailed to hrdelavan@ci.delavan.wi.us
The City of Delavan is an Equal Opportunity Employer.