SRP Week 1 Happenings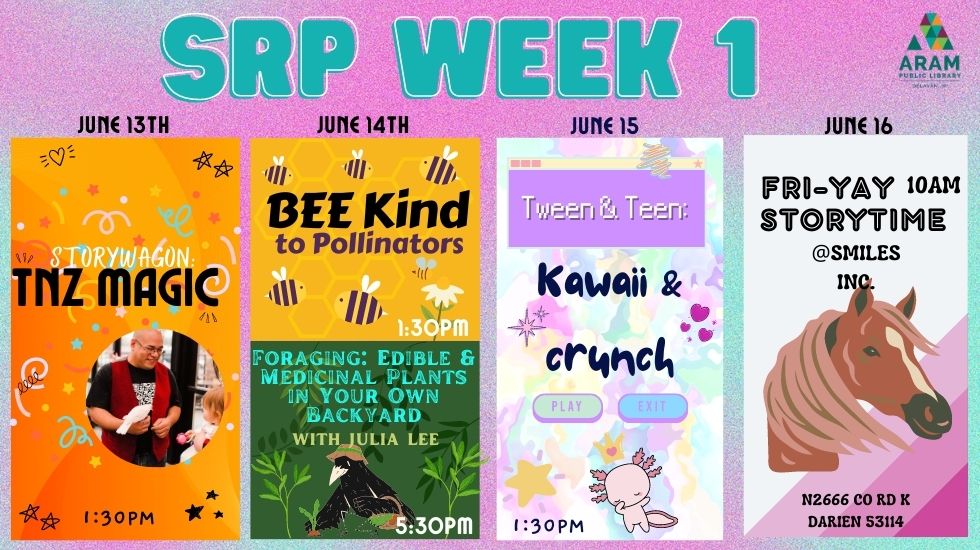 Monday, June 12th, 5:30 – 7:00pm – Open Mic Jam Session – BYO-Instrument
We're bringing musicians of all ages/all levels together for a night of music with LSJ Music. All instruments welcome – please bring your own. No registration necesary. Main floor Library.
Tuesday, June 13th from 1:30 – 2:30pm – Storywagon: TnZ Magic
Zack Percell of TnZ Magic is not only a magician. He is a professional entertainer that uses comedy, visual magic, mentalism, escape artistry, and slight-of-hand to create unforgettable memories!
Wednesday, June 14th, 10:00 – 10:30am -Whiskers & Words with Lakeland Animal Shelter
Join Ms. Katherine along with Laina and some furry friends from Lakeland Animal Shelter for stories and scritchy-scratches.
Wednesday, June 14th, 1:30 – 2:30pm – BEE Kind to Pollinators
[Description]
Wednesday, June 14th, 5:30 – 6:30pm – Foraging Your Lawn: Edible & Medicinal Plants in Your Own Backyard

Have you always been curious about foraging, but don't know where to start? Join Julia Lee as she shares how to easily find and identify plants that grow in your own backyard! We'll also discuss why and how people forage, a little about the history–particularly how it fell out of mainstream society–and then talk more in-depth about the plants we can find and identify easily. There will even be samples to try and recipes to take home!
Thursday, June 15th, 1:30 – 2:30pm – Teens & Tweens: Kawaii & Crunch
[Description]
Friday, June 16th, 10 – 11am – FriYay! Story Time @ SMILES
N2666 Co Rd K, Darien, WI 53114, USA (map)