Spring Break Programs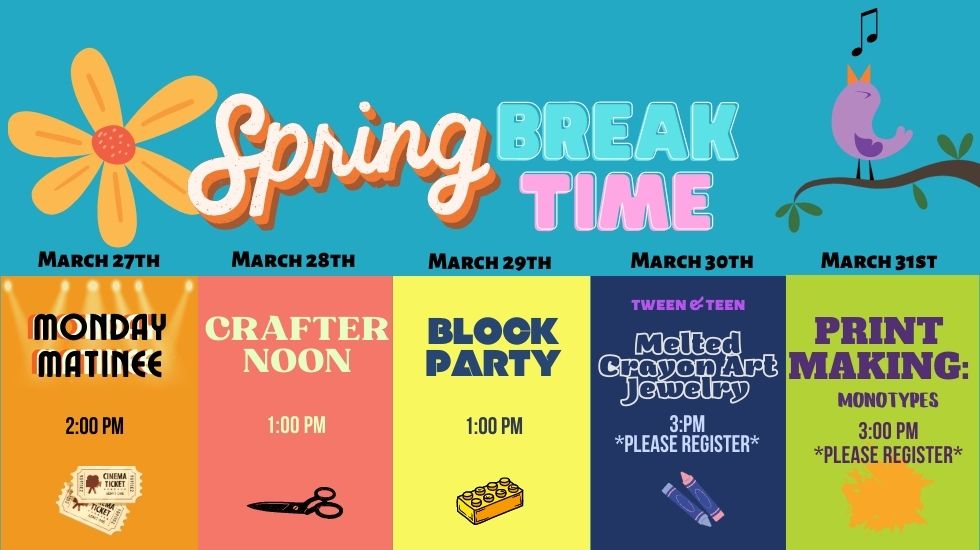 Come hang out with us during Spring Break! We've got fun things going on each day!
Monday: Monday Matinee (movie) @ 2pm

Join us for a family friendly movie and tasty snacks! It's a great way to spend a Monday!
Tuesday: Crafternoon @ 1pm

Oodles of craft supplies at your disposal… What will you create?
Wednesday: Block Party @ 1pm

LEGOs and Duplos and Lincoln Logs and more! Let's build!
Thursday: Teens & Tweens Melted Crayon Art Jewelry @ 3pm
Create OOAK jewelry while recycling old crayons? Don't mind if we do!
Register here: http://bit.ly/aplregister
Friday: Printmaking Watercolor Monotypes @ 3pm (all ages)
A monotype is a print that is created on a plate or block without carving or etching. The image is painted directly on the plate, and then transferred to paper. In contrast to other forms of printmaking, each image is one of a kind.
Join Ms. Amy as she guides you through the magic that is creating watercolor monotype prints! She'll start out showing you how to prep everything, and then will guide you through creating a painting to be transferred onto paper!
Register here: http://bit.ly/aplregister