SHARE Anywhere App!
Posted on July 2, 2022 by aramlib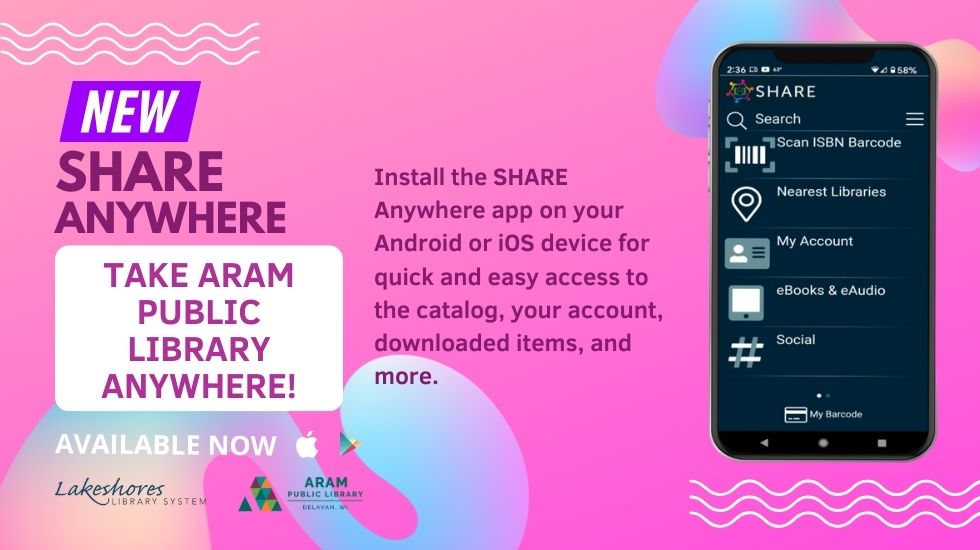 SHARE Consortium proudly announces the launch of SHARE Anywhere!
The new mobile app grants users access to the SHARE library catalog and account portal. This new app replaces the now-retired BookMyne app.
SHARE Anywhere puts the power of the library's web-based catalog and account portal in a handy mobile format on the user's Android or iOS device. Handle searches, checkouts, holds, renewals, and digital items in one place–anywhere, anytime.
Patrons may choose to keep track of their reading history by asking a librarian for details or logging in at ent.sharelibraries.info and opting in.
SHARE Anywhere is available for Android devices in the Google Play store and iOS devices in Apple's App Store.
Apple store: https://apple.co/3OTTQ15
Google Play: https://bit.ly/3OvsSNO
Use the app to:
Checkout your own library materials!
Access your library account!
See a book you like at the store!? SAVE YOUR MONEY!! Scan the ISBN number, access the SHARE catalog, and place a hold!