Resume Writing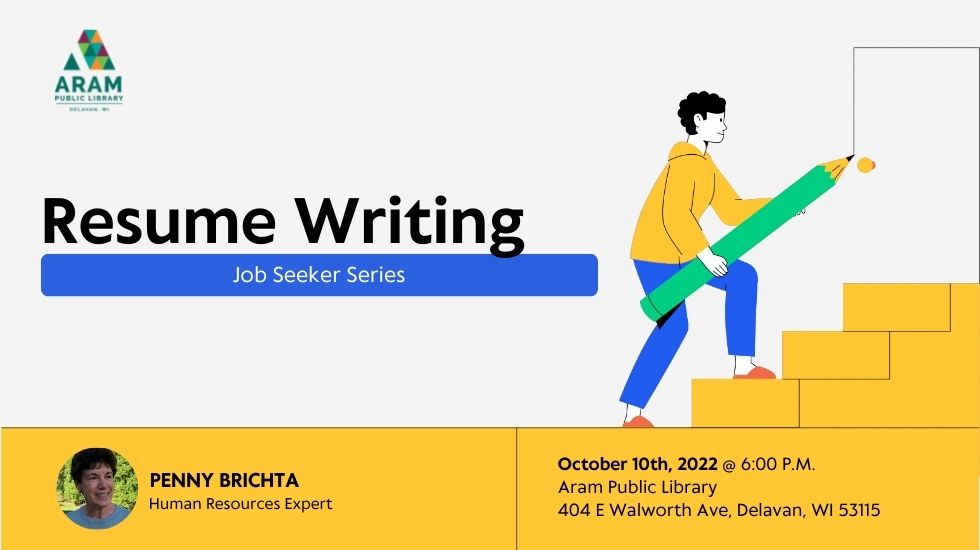 Monday, October 10th from, 6:00–6:45 p.m.
Aram Public Library
404 E Walworth Ave
Delavan, WI 53115, USA (map)
Get started with resume writing and learn how to tell your story. Learn dos and don'ts, how much information to share, and how to cover sensitive situations. Penny Brichta, a human resources expert, will also go over cover letter content as well.
This 3-part series will benefit your job search experience with useful information to give you a leg up on the process. Join us for 1, 2,or all 3 sessions.
Dates for the Job Seeker Series are:
October 3 – Online Resources for Job Searching
October 10 – Resume Writing
October 17 – Interview Skills
The series begin at 6:00 p.m. on designated Mondays.
This is an in-person program in the meeting room, no registration necessary. If interested in participating virtually, please register for Zoom details.
Penny Brichta worked in Human Resources in Corporate America for 40 years. She has reviewed hundreds of resumes, interviewed many job applicants and hired hundreds of people. Penny volunteers for LAWDS (Libraries Activating Workforce Development Skills) through the Wisconsin Department of Public Instruction.