Job Seekers
Library Resources
Aram Public Library offers free internet and computer workstation access with a valid Library card and password (available from any Service Desk). Bring your device and take advantage of our free WiFi connection.
Job seekers can also find materials in our collection – both print and digital on researching careers, writing a resume, interviews and more.
Searching For a Job?
Aram Public Library offers the following digital tools to help with your job search. FREE with a valid Library Card. Don't have a library card? Click here to apply online.
LearningExpress (Badgerlink)
Build your workplace skills, explore careers, and create strong resumes and cover letters, Learning Express also includes information interviewing and tools for a successful job search.
Linked-in Learning Need to brush-up on your Excel skills? practice keyboarding? learn coding? Linked-in Learning (with Lynda.com content) offers a library of engaging, top-quality courses taught by recognized industry experts.
Wisconsin focus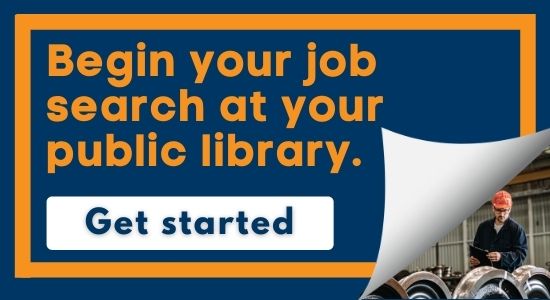 Wisconsin Job Fairs – from the Job Center of Wisconsin, a curated list of job fairs throughout the state.
Job Seeker – Wisconsin libraries and the Department of Public Instruction offer Job Seeker a website tailored to Wisconsin residents, businesses and communities. Find a Job; Connect with Local Services; and, Learn New Skills. Features job-search skills like writing a successful cover letter or resume, how to complete a job application, the best ways to prepare for a winning interview, and more.
Job Center of Wisconsin – Connecting Wisconsin's workforce including featured industries in Wisconsin.
National & Local
Laid off? Furloughed?
From filing for unemployment to evaluating career options, the following resources can help.
Wisconsin Unemployment Benefits
You can file for Wisconsin Unemployment benefits online or by phone toll-free at 1 (800) UC CLAIM or 1 (800) 822-5246. Not sure if you qualify? Visit the Department of Workforce Development page to find out more.