free SEEDS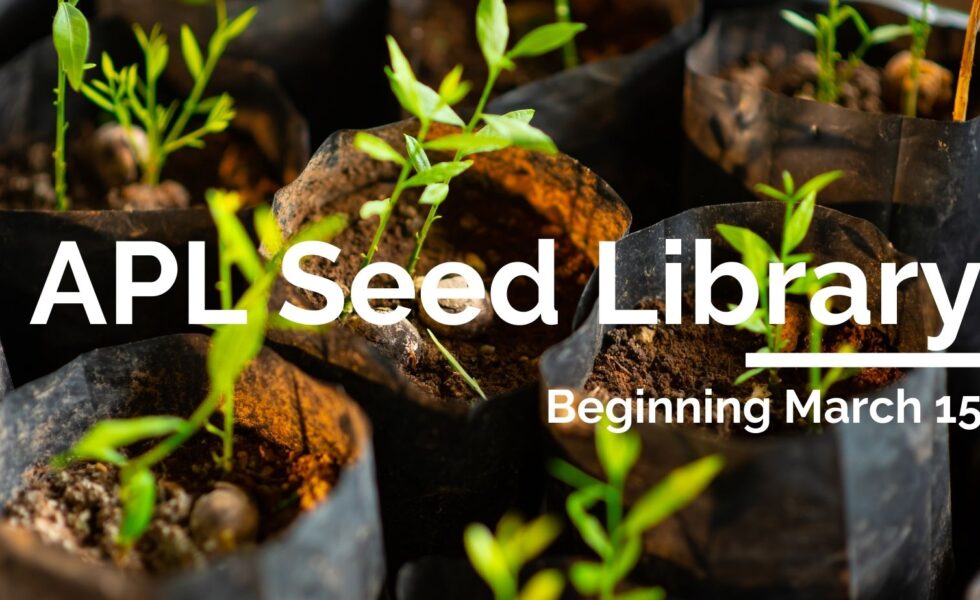 Welcome to the Seed Library at Aram Public Library!
The Seed Library is a self-serve, self-sustaining seed exchange program. Much like borrowing a book at the library, this program gives community members the ability to "borrow" seed packets of different flower, herb and vegetable varieties for at-home gardening. By saving seeds as a community, we help create local seed stocks that are acclimated to our climate. We support all gardeners from beginning to expert and help you learn how to grow, harvest and save seeds through programming and library resources.
It's FREE! It's easy! Take seeds home, plant and watch them grow. At the end of the season, return seeds to the library for next year's stock.
Our seed collection depends on donations and seasonality. You'll see different seeds available at different times, so check in frequently to see what's available.
We are interested in all types of seeds most especially heirloom and open-pollinated, no pesticide use, please. Returning seeds to the library ensures this program continues into the future.
We accept all types of seed donations, both commercially packaged and saved seed. If the seed donation is from a home garden, we ask donors to fill out a form, providing information such as variety, harvest year, location, and growing notes. We repackage donations into coin envelopes, with as much of this information as possible.
Available seeds will vary year to year and may include: cilantro, basil, tomatoes, sunflowers, pumpkins, zinnia, beans, lettuce, and squash.
Did you grow more than you can eat? Contact local food pantries to donate your fresh food to:
Delavan: United Methodist Church, 262-728-3644
Delavan Food Pantry, 262-374-3503
Darien: Darien Food Pantry, 262-882-3701
Seed availability will change throughout the season check back often to see new additions – click here for a starting seed list. To plant a special garden, look for the following varieties of seeds or similar.
Plant a world flavors garden:
Cilantro
Marzano Fire Tomato
Habanero Pepper
Eggplant, Asian Delite
Bok Choy
Lemongrass
Hungarian Hot Was Pepper
Shishito Pepper
Tomatillo
Plant a bee friendly garden
Borage
Cosmos
Echinacea (Coneflower)
Sunflower Sungold Dwarf
New to gardening? Check out this resource list.
The Seed Library launched in 2021 as part of an American Library Association grant, Libraries Transforming Communities. Through the initial $3,000 grant, Aram Public Library and Darien Public Library collaborated to launch individual seed libraries and programs supporting sustainability and local food sourcing.