Library Expansion Fundraiser @ Culver's! (Share Night)
Posted on September 28, 2022 by aramlib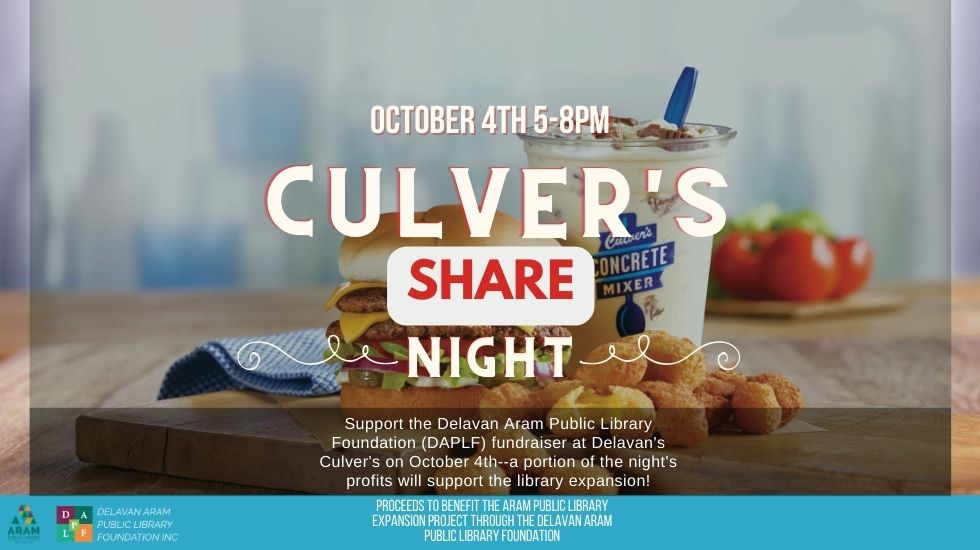 Tuesday, October 4th from 5 – 8pm
Delavan Culver's
1931 Geneva St, Delavan, WI 53115, USA (map)
Support the library expansion by dining at Culver's Share Night!
The City of Delavan's Mayor, Ryan Shroeder, will also be on hand, along with other dedicated library supporters!
Guess what's happening here at Aram Public Library? Big plans. Big BIG plans!
Aram Public Library is expanding! Our project includes:
-Renovating our existing space of 12,116 square feet and adding an additional 23,162 feet of net space
-Adding multiple rooms for events, workshops, and meetings, including three study rooms
-Adding a larger, modern children's department that will including a Discover ZoneAdditional adult program areas
-Remote workspace
-And, designated space for teens/young adults
Sounds great, right? Here's how you can help! Support the DAPLF fundraiser on Tuesday, September 27th from 5-8pm at Culver's in Delavan. A portion of the night's profits will go to support of the library expansion project. We hope to see you there! And, if you know of any other hungry people, or someone wanting a break from cooking, invite them along!