Kishwauketoe: a Nature Conservancy
Posted on January 24, 2023 by aramlib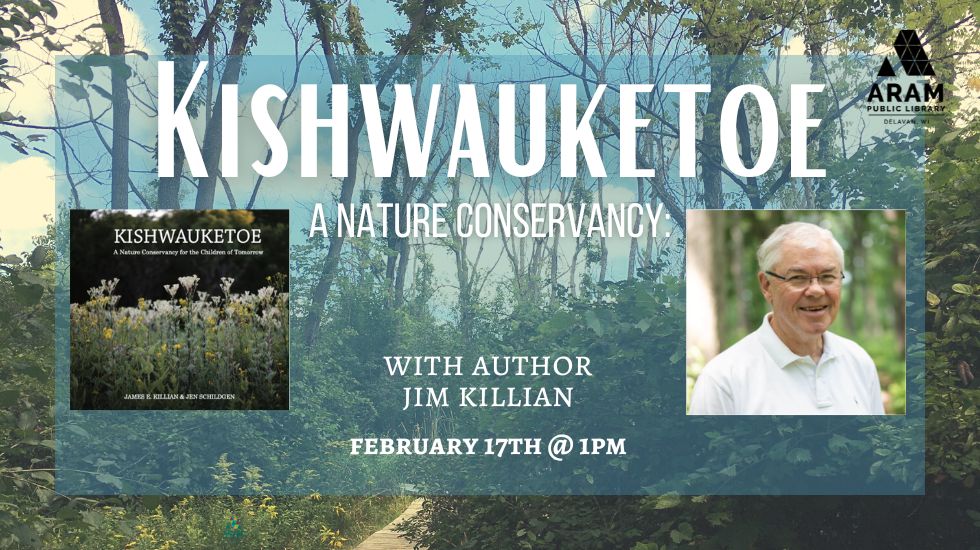 Friday, February 17th @ 1pm
Join Aram Public Library in welcoming author, Jim Killian of "Kishwauketoe: a Nature Conservancy, the story of restoring this natural gem in Williams Bay.
Following his retirement as a healthcare executive in 2013, Jim dove headfirst back into his undergraduate studies in field biology and conservation by volunteering on various stewardship and restoration projects at Kishwauketoe Nature Conservancy, in Williams Bay.
He currently serves on the Board of Kishwauketoe where he often leads various restoration projects and grant writing initiatives. Jim is an avid volunteer for the Wisconsin Department of Natural Resources and the University of Wisconsin Extension Program's Snapshot Wisconsin program, where he hosts and manages two wildlife trail cameras in Kishwauketoe. He is also a Wisconsin Master Naturalist Instructor.
Jim recently co-authored the book 'Kishwauketoe, A Nature Conservancy for the Children of Tomorrow', in partnership with Lake Geneva photographer and graphic artist Jen Schildgen.