Free State Park Passes (while supplies last) beginning May 5th!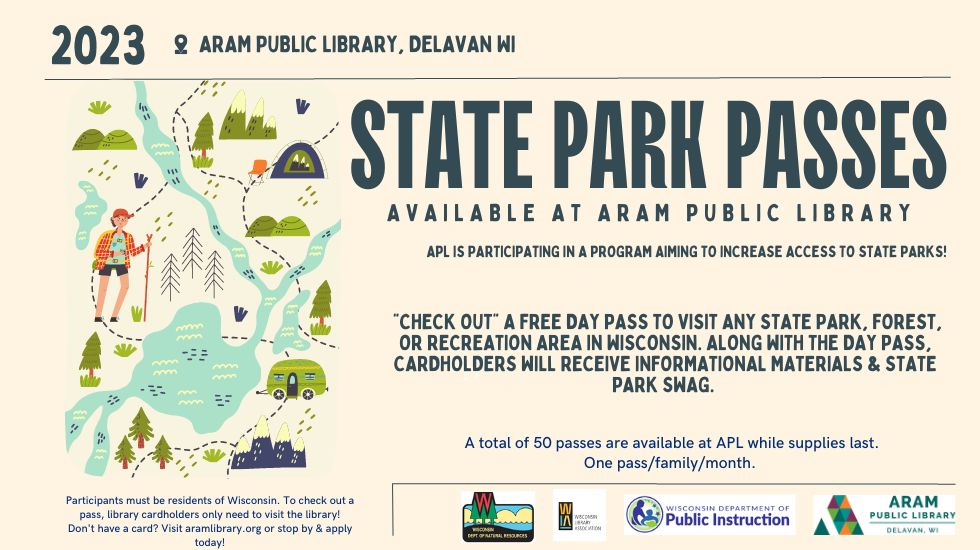 Aram Public Library is participating in a program aiming to increase access to Wisconsin's state parks!
The program, titled "Check Out Wisconsin's State Parks At Your Library," provides library cardholders the opportunity to "check out" a 1-day free vehicle pass to visit any state park, forest, or recreation area in Wisconsin.
A total of 50 passes are available at APL while supplies last. Families are limited to one pass per month.
This program is a collaborative effort between the Wisconsin Department of Natural Resources (DNR), Wisconsin Library Association's Wisconsin Association of Public Libraries, and Wisconsin Department of Public Instruction.
Participants must be residents of Wisconsin. To check out a pass, library cardholders only need to visit the library and we can help.
Don't have a card? Visit aramlibrary.org or stop by the library and apply today!
Happy trails!