Educators
Teacher Collections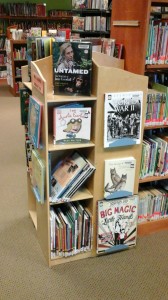 If you need materials on a particular subject, you can contact the library, tell us what you're looking for, and we'll collect them for you! It's that simple!
Just a few notes about the program:
Each collection will consist of anywhere from 2 to 10 books on a particular subject. Please note that collections will be distributed on a first come, first serve basis.
Teacher collections do not have to be limited to nonfiction titles. Requests can be made for reading collections to help freshen up your classroom library offerings.
The books included will come from Aram Public Library's collection. Are all the books on your desired topic checked out?  Don't hesitate to ask for help getting materials from other libraries in our system!
The materials can be checked out on a personal card OR an institution card. Please note: materials on a personal card will follow standard checkout timelines, whereas institution cards have a longer checkout period.
Due to having limited staff, we cannot deliver the books to you. However, we'll have them ready and waiting for you here at the library!
To request a Teacher Collection, please contact the library. Be sure to include any relevant specifications, including—but not limited to—age range, fiction vs. nonfiction, and date/time frame needed.
Resources
BadgerLink provides resources specifically chosen for educators, including—but certainly not limited to—teaching tools, lesson plans, research databases. (Please note, your library card may be needed to access this resource.)
NoveList K-8 provides users with book recommendations, read-alikes, discussion guides,  reading lists, and more! There's even a section entitled Especially For Working With Youth! (NoveList K-8 is provided by BadgerLink. Your library card may be needed.)
The Cooperative Children's Book Center (CCBC) is a study and research library of the School of Education at the University of Wisconsin-Madison. The CCBC supports teaching, learning, and research related to children's and young adult literature by providing informational and educational services.
Looking to Start a Book Club?
If you are interested in forming your own book club, these sites offer information:
Additionally, the member libraries of Lakeshores Library System own a variety of titles on starting and maintaining a book club. Search for these in the catalog with the search term "book clubs".
(Please note: the above book club resources are not specific to children's materials.)