Discovering Delavanites – 125th Anniversary Event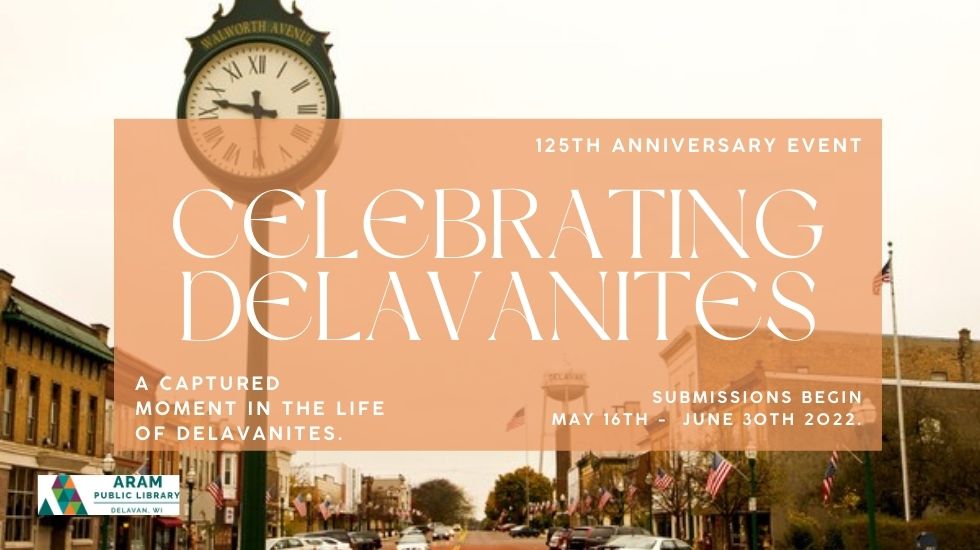 Join Aram Public Library in helping to curate a photo essay display entitled "Discovering Delavanites" in celebration of Delavan's 125th anniversary of becoming a city.
Anniversary celebrations will occur throughout the day on July 23rd, 2022. For more details visit: VisitDelavan.com.
Our photo essay focuses on celebrating a captured moment in the Life of Delavanites.
Photo essays are a form of visual storytelling – the photographer sharing a story or narrative with the viewer. Possible photo topics could include a child at play, a person or people at work (teacher, farmer, chef, etc.), or neighborhood or family gatherings.
All ages are welcome to submit their photos. Submissions begin Monday, May 16th 2022 and continue through Monday, July 11th at 7pm.
Photos of any size can be dropped off at the library or emailed to aramlibrary@aramlibrary.org. Please add descriptive information on the back of the photo or email submission, including:
Name of Topic
Date of Photo
Title of work (optional)
Photographer
For those that are emailed, the library will print photos in two sizes: 4×6 or 5×7. Photos will be displayed during July and August at Aram Public Library.
In lieu of return, all photos submitted will be donated to the Delavan Historical Society as a historical opportunity. For more information, please call the library at 262-728-3111.