Upcoming Events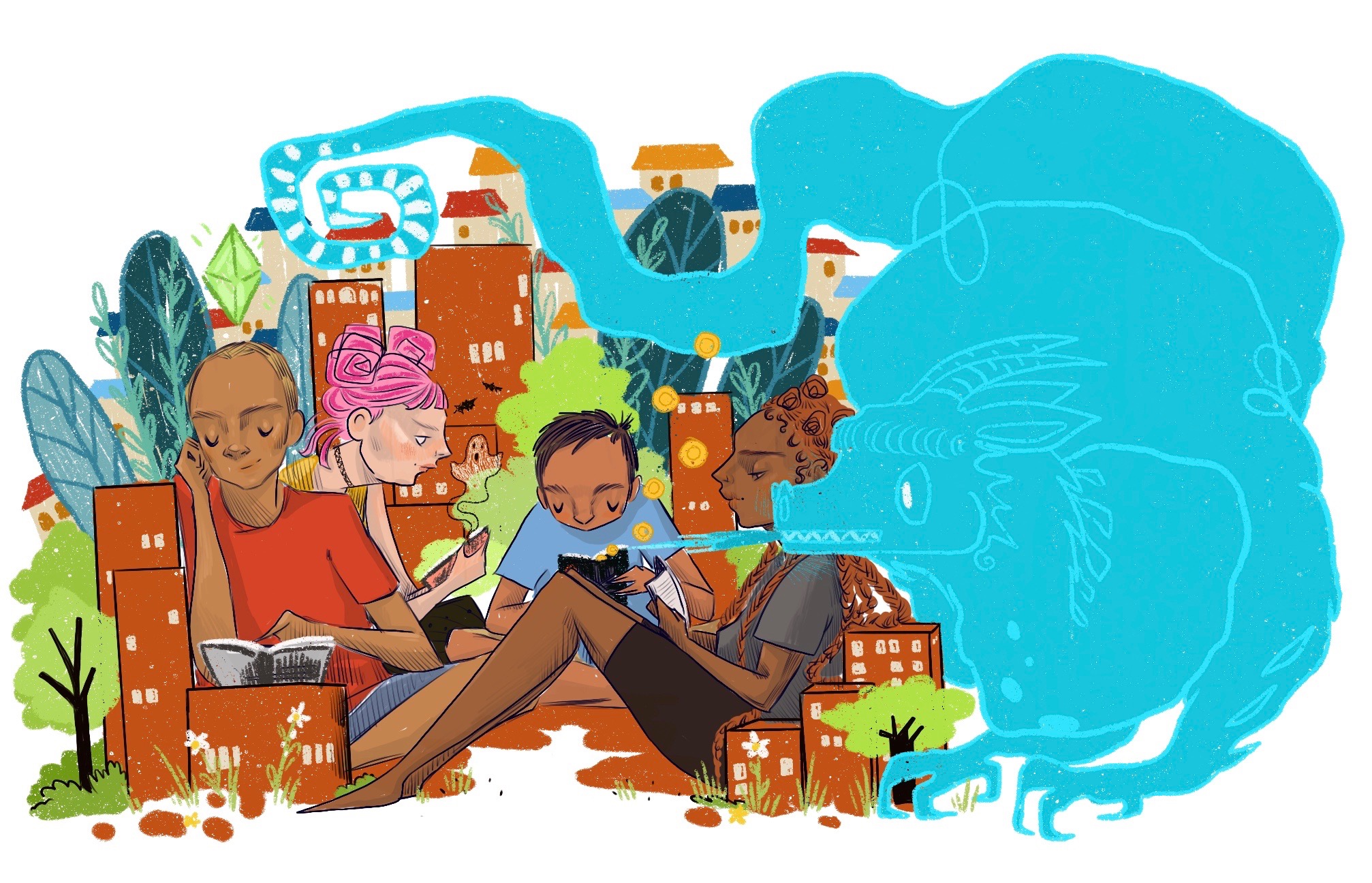 The library is currently in a phased reopening–you can learn about it here! All regularly scheduled programs will be postponed until further notice.
But there's still a lot going on! Connect with the library VIRTUALLY through our social media channels! Find us on Facebook, Youtube, and Instagram for online programming, and the lowdown on Summer Reading 2020: Imagine Your Story.
Regularly Occurring Virtual Programs –
* All programs debut on Facebook unless otherwise marked.
Fiber Fun – Saturdays at 7am for Tweens, Teens, & Adults
Makers gonna make! Join us for a new crafting program hosted on Facebook throughout the summer. Sessions come in threes focusing on sewing, crochet, and mending. All experience level fiber enthusiasts are welcome!
Session 1
June 13: Envelope pillow
June 20: Headbands!
June 27: Book bags
Session 2
July 4: Beginning crochet I
July 11: Beginning crochet II
July 18: Amigurumi I
July 25: Amigurumi II
Session 3
August 1: Mending I
August 8: Mending II
We'll also be doing two extra sessions of Fiber Fun in August. Join Ms. Carol as she shows you how to make DIY masks!
August 15: No sew
August 22: Hand-sewn
*Scary Stories – Saturdays at 9pm on Instagram
Who's in for a fright? Every Saturday night head over to Aram's Instagram (@aramlibrary) for a tale from our own mistress spooktacular Ms. K! This program is recommended for tweens and up.
Think you have what it takes to send shivers down someone's spine? Record yourself reading your favorite short scary story and submit it for the chance to be a special guest on a future Scary Stories program. Videos can be sent to Ms. K at aramkids@aramlibrary.org
READ, SHRIEK, AND BE SCARY.
Find & follow our full virtual programming schedule on the library's Facebook & Instagram pages—as well as special one-time programs.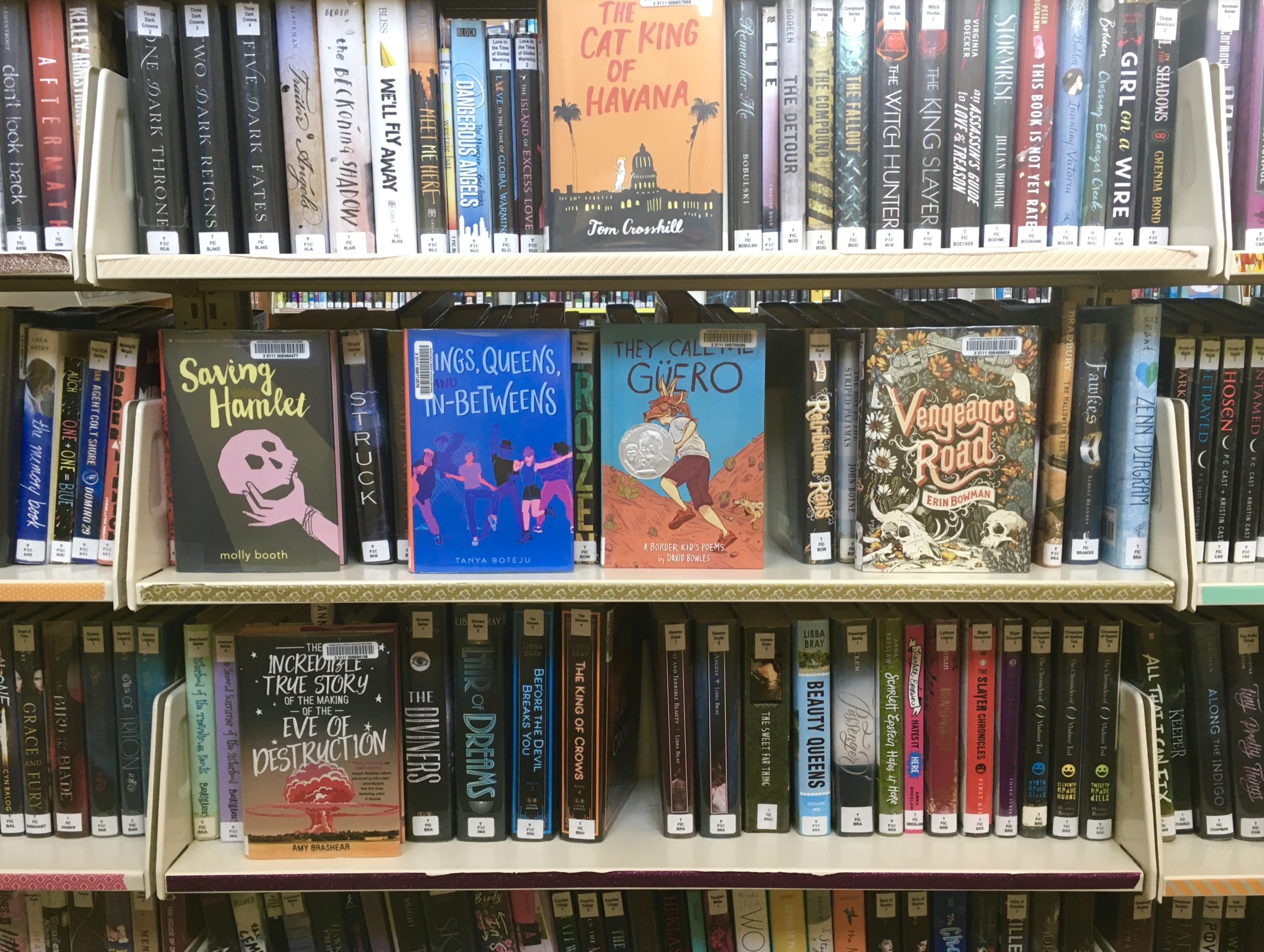 Need books while the library is closed, but don't want to talk to anyone? Use the SHARE catalog–all you need is your library card number & PIN. You can also ask a librarian to pick a stack for you! Use our personalized picks form. If you need help just drop Ms. Katherine a line (Facebook message works just fine)!
---
BookMyne available for your devices – Download today!
Need access to your library catalog on the go? Add SirsiDynix's BookMyne app, available both on Google Play and the Apple App Store. You can check availability of items by typing the title or scanning an item UPC, place holds, view best seller lists, manage your library account, and more.
BookMyne está disponible para sus dispositivos – ¡Descárguela hoy mismo!
¿Necesita acceso al catálogo de la biblioteca en donde quiera que esté? Descargue la aplicación SirsiDynix's BookMyne, disponible en Google Play y App Store. Vea la disponibilidad del material escribiendo el título o escaneando el código de barras, reserve material, vea los libros más vendidos, maneje su cuenta de la biblioteca y más.
Interpreters are available for all programs upon request. Please notify the library at least 3 days in advance of the program date.
Volunteer
Looking for volunteer or community service hours?  Why not volunteer at the library!  If you're interested, stop by the Children's Desk for more information and an application.  (Please note, volunteers must be entering the 7th grade or older.)
Homework Help!
BadgerLink provides an amazing variety of quality resources! (Please note, BadgerLink may require a library card to allow for full access.)
Click the links below to check out all the information available—for free!
(Please note, BadgerLink resources may require a library card to allow for full access.)
Planning for the Future
LearningExpress Library – AP, ASVAB, ACT & SAT test prep, career guidance, and more!
Music and More
Bet You Didn't Know About This Resource…
Did you know that you have access to royalty free music, audio themes, and sound effects? It's true! Soundszabound offers the only royalty free music library which meets all the licensing and technology requirements needed for education! The music library ensures copyright safety and is ideal for grades K-12 and universities. Imagine what you could create with access to an entire library of amazing sound! Podcasts, PowerPoint, videos, news shoes, presentations, web design…and that's just the tip of the iceberg!
Driver's Ed
Let Aram Public Library help you get behind the wheel!
Driving-Tests.org
Thanks to a partnership with Driving-Tests.org, Aram Public Library is proud to offer free online test prep for students preparing for their Wisconsin driving tests! Visit our exclusive website, where you can choose from several different permit tests. No library card number or personal information is needed! This resource is also great for anyone looking to brush up on their knowledge of Wisconsin's traffic laws or interested in getting their motorcycle license. A helpful FAQ section addresses questions residents might have about visiting their local DMV.
I Drive Safely
I Drive Safely is an online driver's education and traffic school.  This learning center service is absolutely FREE.  It provides teens with many different informational articles and tips for automobile issues and state-specific laws.  The mission at I Drive Safely is to provide reliable driver's education training for new drivers and to install safe driving habits in teens.  The self-paced courses allow students to complete the courses at their own convenience and from the comfort of their own homes.  Click Wisconsin Safe Driving – Learning Center for more information and to get started.