Summer Reading
Summer Reading 2017:
Build a Better World!
The fun kicks off on June 9th!
Milestones (and the reading records needed to reach them)
Toddler:
Activity Book and Crayons (2 records)
Coupon Pack (4 records)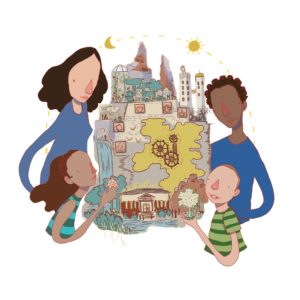 T-Shirt (6 records)
Book (8 records)
Youth:
Coupon Pack #1 (2 records)
Coupon Pack #2 (4 records)
T-Shirt (6 records)
Book (8 records)
Teen:
Coupon Pack (2 records)
Book (4 records)
T-Shirt (6 records)
Book + Coupon Pack (8 records)               

Adult:
Keychain (2 records)
Cards or Earbuds (4 records)
Lunch Bag or Journal (6 records)
Tote Bag (8 records)
Reading Records
You may turn in weekly records late, but you may not turn them in early!
(For example: we'll accept week 2 any time after week 2, but not during week 1.)
Reminder: for each activity beyond the required 7 that you complete, you can earn an EXTRA GIVE YOURSELF CREDIT!
(Maximum of 6 per week for each Reading Record)
Each Reading Record submitted will earn you a Library Loot, too!  (Use it for fines, printing, and more!)
Any participate who reads 100 hours or more will have their achievement recognized on a bookplate placed in the title of their choosing.
THE LAST DAY TO TURN IN READING RECORDS is Saturday, August 12!
Builder Bodega
Open from Tuesday, June 20th – Saturday, August 12th

Hours:   
Tuesdays: 2:30 – 4:00pm and 5:00 – 7:00pm
Saturdays: July 15, July 29, August 12 from  9:30 – 11:30am
All programs are free of charge.
If registration is necessary, it will be indicated online, in the monthly newsletter, and on any promotional materials for the event.
Interpreters are available with a 3-day notice.
Looking for information about our upcoming programs?
Check out the Kids, Teens, and Adult pages!
Other Fun Stuff!
Free Lunches for Anyone 18 and Under
Summer Food Service Program will take place on the following Tuesdays:
6/13, 6/20, 6/27, 7/11, 7/18
ANYONE under the age 18 is welcome to stop by for something to eat.
Meals will be served from 12pm – 1pm.
Libraries are for Everyone
Earn TWO GIVE YOURSELF CREDITS by decorating a paper person and returning it to the library!
Every person submitted will be used to decorate our tent!
Stop by either desk to snag a paper pal of your very own.
Kindness BINGO
Use the enclosed BINGO sheet to help bring a little kindness into the world!
Families can share BINGO sheets and everyone gets credit for the Acts of Kindness completed!
How cool is that?!
Even cooler?  Every time you earn a BINGO, each person listed will earn their choice of either
a Library Loot or an EXTRA Give Yourself Credit!
BINGO sheets may be turned in at the Adult Desk during Builder Bodega operating hours.
Tuesdays: 2:30pm – 4:00pm and 5:00pm – 7:00pm
Saturdays: July 15th, July 29th, August 12th 9:30am – 11:30am
PLEASE NOTE:
Participants will each receive the aforementioned incentives for 1 BINGO sheet for the summer.
Throw kindness around like confetti!