Celebrate National Library Week with APL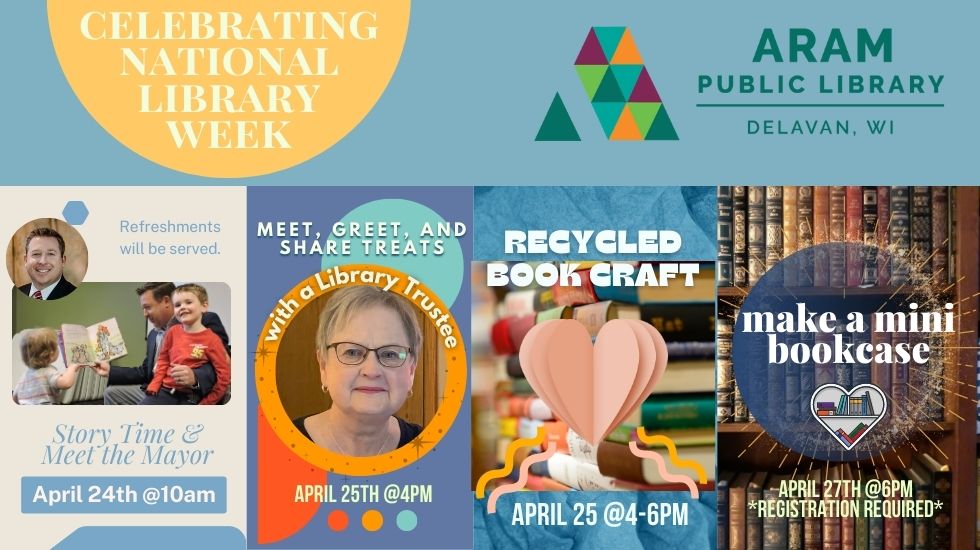 Come check out all the fun we've got going on during National Library Week, April 24th-29th!
Storytime with the Mayor followed by Coffee with the Mayor
Mon, April 24th
10am – 11am
It's National Library Week and we have a special guest joining us for Baby to Three, Come Wiggle With Me! Mayor Ryan Schroeder is coming to read a story…and will stay afterwards for coffee and snacks!
Meet, Greet, and Share Treats with a Library Trustee
Tue, April 25th
4pm – 6pm
Stop by and chat with a Library Trustee – learn about the board and library expansion. We'll have treats on hand too. No registration necessary.
Recycled Book Crafts
Tue, April 25th
4pm – 6pm
Make a Mini Bookcase *REGISTRATION REQUIRED*
Thu, April 27th
6pm – 7pm
Celebrate National Library Week (April 23-29, 2023) with us and make a mini-bookcase. All ages are invited. We'll be using hot glue so please bring an adult for help if under the age of 13. All supplies included. Please register for this event.