Author Event: Peggy Marxen, "The Farm on Badger Creek"
Posted on March 23, 2023 by aramlib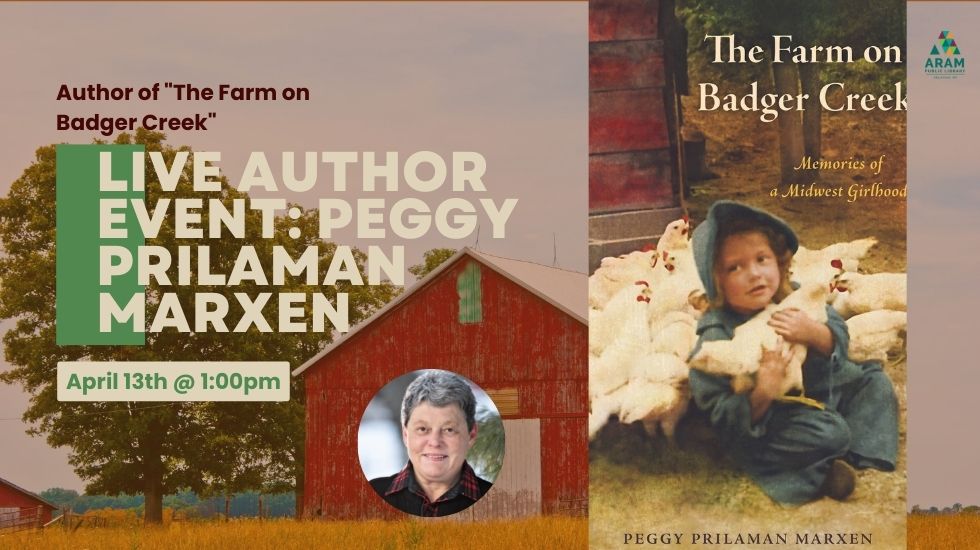 Thursday, April 13th
1 – 2pm

Join Aram Public Library for a special author event with Peggy Marxen.
Peggy Prilaman Marxen grew up near the town of Meteor in northwestern Wisconsin's Sawyer County near Hayward, Exeland, Spooner and Rice Lake. She and her family witnessed changes to rural Wisconsin that altered the fabric of their lives and the lives of all in their community, including the introduction of new farming techniques, school consolidation, and revolutions in transportation and technology.
For many years, her home, like those of her neighbors, lacked indoor plumbing, electricity, and a telephone. As a young child, Peggy attended a one-room schoolhouse and walked, biked, or sledded the three miles to school and back, no matter the weather. Peggy shares stories of the family's herd of dairy cows, hunting, fishing and making maple syrup all to make ends meet.
In-person at Aram Public Library.