Aram Public Library goes fine free for all!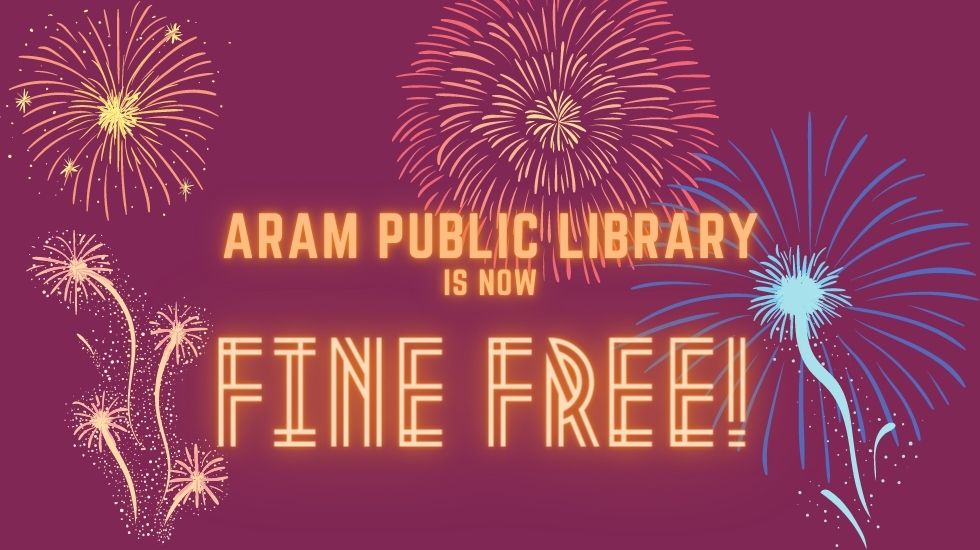 On Thursday, May 19th 2022, Aram Public Library Board of Trustees unanimously voted to eliminate fines (including past fines on returned materials) for adult library users beginning June 1st, 2022. Previously, in 2019, the Library Board had removed fines on all youth and teen accounts, removing barriers for those age groups.
Michelle Carter, Library Director, said, "Removing barriers notably with fines creates a more welcoming and friendly environment for all library visitors. Basically, we'd like our materials returned so more people can access them; it's that simple. With the ups and downs of the economy and possible stress on personal finances, the board's goal is to improve customer service and the user's library experience."
Due dates on materials will still apply. Library users are encouraged to return items or renew them in a timely manner.
When does fine-free begin?
APL will begin fine free on June 1st, 2022.
Will overdue fines be waived on ALL materials?
Other LIBRRARY's materials WILL still incur fines. ONLY APL materials are fine free (excluding hotspots and chromebook kits).
(Materials from Lake Geneva and Walworth are also fine free. Elkhorn and Williams Bay are fine free for youth materials.)
How will the library get patrons to return borrowed materials without charging fines?
"No overdue fines" does not mean "no responsibility." Due dates still apply. APL will expect items to be returned in a timely manner. Borrowing privileges will be suspended and a patron will be billed replacement and processing fees if materials are not returned within an established time frame.
Borrowing privileges will be suspended when fines are $10 or more
A Patron is billed replacement and processing fees when item(s) are 5 weeks overdue.
Fines will still accumulate until the item(s) are returned. Once returned, fines will be automatically removed.
What happens if I return an item after I receive a bill for it?
The bill (replacement and processing costs) will be removed from a user's account if the item is still in our system and hasn't been replaced. Any recovery fees will remain.