All of May: R.E.A.D. (Read, Earn, and Donate) Fundraiser on Beanstack!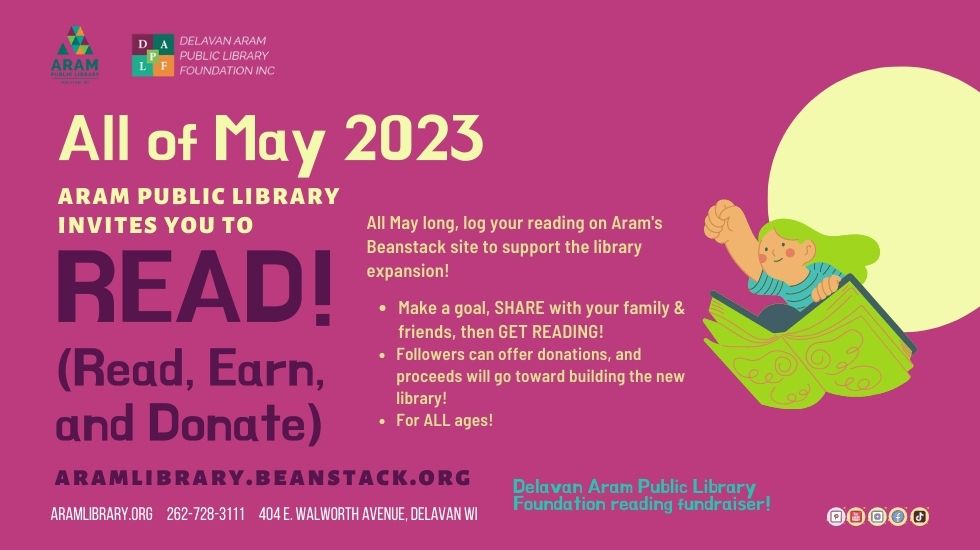 Reading Fundraiser – all month
Join the Delavan Aram Public Library Foundation (DAPLF) to help raise money for our library expansion project – Design is happening — 2023!
Very similar to a readathon, readers of all ages may participate in our reading fundraiser.
How does it work?
* Readers create a Beanstack account (at aramlibrary.beanstack.org<http://aramlibrary.beanstack.org><http://aramlibrary.beanstack.org/>) or use one already created.
* Each participant has their own individual donation page where family and friends can donate and leave encouraging messages.
* Readers share and log their reading with family and friends to earn virtual badges and donations.
* Beanstack works beautifully on all devices – laptops, tablets, phones or desktop computers.
* Donors can see how much the reader has raised and their latest books ready and badges earned.
Proceeds from the readathon will go to support the library expansion project.